Ivory Coast Faces Growing Calls for Talks on Vote Outcome
(Bloomberg) -- The U.S. and European Union appealed to Ivory Coast's political leaders to hold talks over the nation's disputed election, as a key opposition leader urged the military to defy President-elect Alassane Ouattara.
Ouattara and his opponents have been in a standoff since the world's top cocoa producer held elections on Oct. 31. Most opposition parties refuse to recognize Ouattara's victory after they boycotted the vote as they claim the constitution barred him from seeking a third term.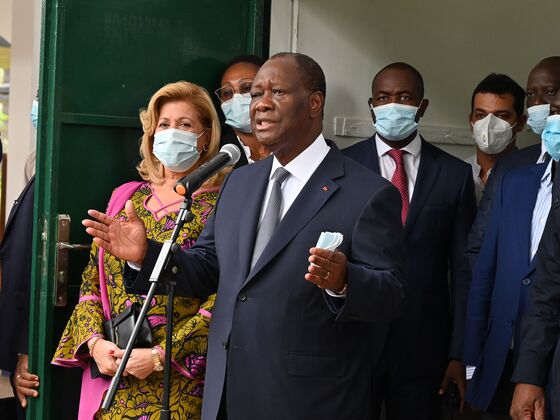 Henri Konan Bedie, the main opposition leader, and his ally Pascal Affi N'Guessan have called for a transitional government to prepare fresh elections -- a move the government says is illegal. Security forces have maintained a heavy presence outside Bedie and Affi N'Guessan's houses since Tuesday, when the authorities arrested a number of opposition officials.
Ambassadors for the EU, France, the U.K. and U.S. met Bedie late Wednesday when he pleaded for the United Nations to intervene to resolve the crisis, Jeune Afrique reported Thursday.
Former rebel leader Guillaume Soro, who is living in exile in France, urged the Ivorian military to back the so-called National Transitional Council proposed by the opposition.
"You must act to restore our constitution to its former glory," he said in a statement on his Facebook page. "Put an end to the specter of civil war that threatens our country."
Ouattara has blamed the opposition for violence in which at least 16 people died last month in Dabou, east of the commercial hub of Abidjan. The government sees no risk of the army breaking ranks to support any of the opposition, Prime Minister and Defense Minister Hamed Bakayoko said on Oct. 30.
Read more
AFRICA COCOA: Ivorian Vote Slows Activity Despite Good Weather
The U.S., EU and former colonial ruler France said dialog between both sides was essential to reduce tensions in the West African nation.
At least 10 people have died since the vote took place, according to the government. While there were fears the country may suffer a repeat of post-election violence a decade ago that left at least 3,000 dead or missing, there have been no major outbreaks of unrest since voting day.
All parties should work to "put an end to provocation and acts of intimidation," French Foreign Affairs Minister Jean-Yves Le Drian told journalists via a video call. "France stresses the urgency of resuming political dialog in Ivory Coast to bring about reconciliation through concrete measures."
Ouattara, who is scheduled to be inaugurated on Dec. 14, is prepared to enter talks with the opposition, Mamadou Toure, a spokesman for the ruling Rally for Houphouetists for Democracy and Peace, said Wednesday.
The standoff has had little impact on investor sentiment so far. Yields on the nation's $2.5 billion of 2032 Eurobonds fell for a sixth day on Thursday, declining two basis points to 5.99%, the lowest level since Aug. 19.