Macron Says Europe Is Giving Way to Nationalism Again
(Bloomberg) -- French President Emmanuel Macron said Europe must work to counter the "troubled times" ahead as it faces a new wave of extremism. 
"The world is fracturing, new disorders are appearing and Europe is tipping almost everywhere toward extremes and again is giving way to nationalism," Macron said in a television announcement on Tuesday evening, only his second since he took office in May 2017. "Those who do not see what is going on around us are sleepwalking. Not me."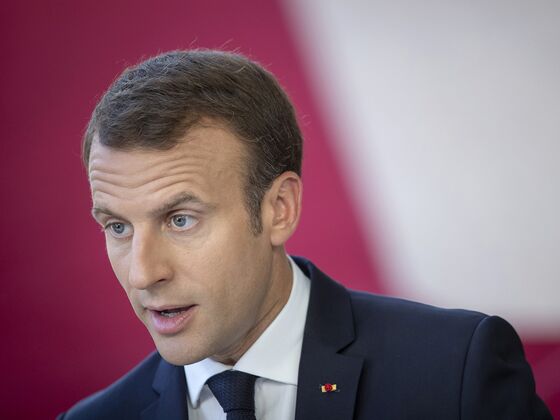 France's 40-year-old leader said his new ministerial team, appointed Tuesday, will continue to reform the country and make it an "educated nation" as he seeks to avert the rise of extremism at home. The new cabinet is due to meet on Wednesday before Macron heads to Brussels for a summit of fellow European Union leaders.
Macron defeated anti-Europe and anti-immigration political leader Marine Le Pen 16 months ago. Far-right groups are on the rise in Germany, have won political victories in Italy and Austria, and are in power in Hungary and Poland.
Macron is planning a 10-day-long commemoration of the end of World War I at a dozen different sites across France next month as part of his personal campaign to stress internationalism and the dangers of extremism. Ahead of the May 2019 European elections, Macron has called for the "regrouping" of European political entities around common values, to create a pan-European, trans-party political group of "progressive" politics against nationalists.
"We will be judged on our lucidity and our courage," Macron said, adding that "innocent times are over."
After making only limited changes to his government, Macron said "today there is no change of direction nor change of strategy. There is a will to take action." The president announced his long-anticipated cabinet overhaul prompted by the Oct. 2 resignation of his interior minister and postponed numerous times. The new team will carry on with the reform of the pensions system as Macron said he wished for the new one to be "more equal."