France's Macron Loses Another Minister as Interior Chief Quits
(Bloomberg) -- French Interior Minister Gerard Collomb quit late Tuesday, the second major minister to leave President Emmanuel Macron's government in three months.
Collomb, 71, had already announced he'd step down to return to local politics in his hometown of Lyon, though he'd originally indicated he'd stay in his post until next year.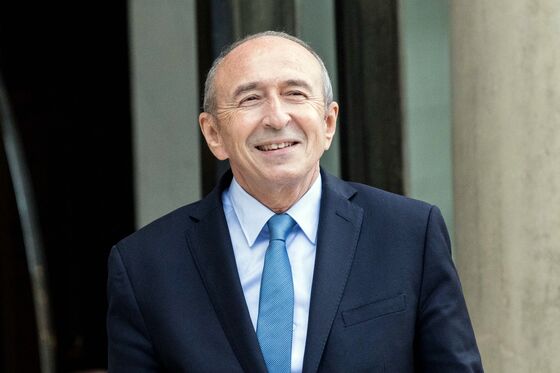 Collomb follows Nicolas Hulot, a popular television presenter who quit as environment minister in August because he felt the government wasn't giving enough attention to environmental causes. Other ministers rushed to say there is no link between the two cases and the government isn't under strain.
"Don't mix up the two, the situations are very different," Justice Minister Nicole Belloubet said on Europe1 radio Wednesday. Collomb "is close to the president, he just made the choice of his home town," she added.
Collomb was mayor of Lyon, France's second largest metropolitan area, from 2001 to 2017 and one of the first heavyweights in the Socialist Party to back the candidacy of Macron ahead of the April 2017 presidential elections. French media have reported that relations between the two have deteriorated in recent months, especially after Collomb said in September that Macron's lack of "humility" explained his slide in the polls. In July, Collomb told a parliamentary hearing the presidential palace was to blame in the affair of a Macron bodyguard caught beating protesters.
Sports Minister Laura Flessel quit last month following questions about her tax affairs.
Collomb was frequently mocked in the French press for his aged demeanor in a government full of 30- and 40-somethings.
"Collomb has the right to retire, to quit the ministry, to see his grandchildren, to take care of his garden, and go to good restaurants in Lyon," Daniel Cohn-Bendit, a former member of the European parliament who is close to Macron, said on Franceinfo radio Tuesday.
Macron rejected Collomb's initial resignation earlier this week, but late Tuesday the president's office sent a brief statement saying he'd accepted the resignation and that Prime Minister Edouard Philippe will hold the interior minister's seat at Wednesday's cabinet meeting.
Collomb's resignation comes just as the ministry had good news to report: Redoine Faid, a bank robber who escaped from prison by helicopter last July, was recaptured in the Paris region.