France's Le Maire Says New Lockdowns Threaten Growth Target
(Bloomberg) -- France will miss its economic growth target this year if another nationwide lockdown is imposed to contain the spread of the coronavirus, Finance Minister Bruno Le Maire said.
"If there is a decision of lockdown in France of course it will have a direct impact on growth forecasts and it will be very difficult to meet 6% growth," Le Maire said in an interview with Guy Johnson on Bloomberg Television.
The French government is under mounting pressure to implement tougher restrictions as soon as this week, as doctors and researchers sound the alarm over new, more contagious variants of the virus. Prime Minster Jean Castex said earlier Monday there are "worrisome" indicators, and decisions will have to be made in the coming days.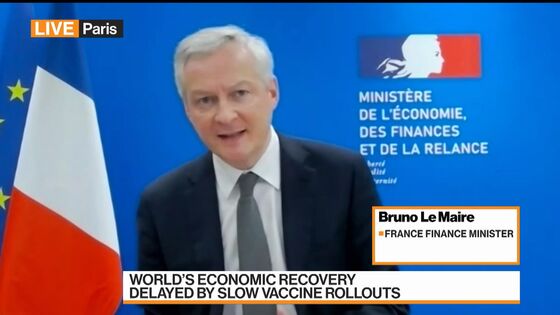 The government previously set a growth target of 6% for 2021, based on expectations that the economy would rebound sharply once restrictions were lifted. Le Maire had already warned that target was a challenge.
If there is another lockdown, the finance minister said the government will continue President Emmanuel Macron's "whatever the cost" approach to the crisis by providing new support to the worst-hit sectors.
"The first part of 2021, let's say until next summer, I think we will have to continue supporting some of the economic sectors in France," Le Maire said. "It would be a political, economic and social mistake to withdraw that kind of measure while the pandemic is still there."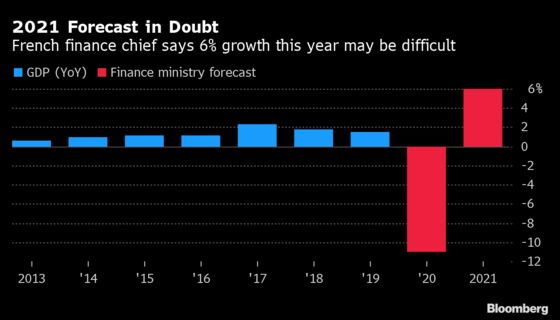 Le Maire also commented on his aims for talks with incoming U.S. Treasury Secretary Janet Yellen, who is expected to be confirmed by the Senate later Monday. Le Maire said his first priority would be discussing digital taxation, an issue on which France clashed with former President Donald Trump's administration.
The U.S. could still use sanctions prepared by the Trump administration in retaliation for a levy Le Maire introduced in 2019 on the revenues of global technology firms. That bilateral conflict could be unwound if progress is made in international talks on the rules of taxation that have been delayed by U.S. objections and the Covid crisis.
"The very first statements made by Janet Yellen on international taxation clearly mark a change in the American position in the right direction on digital taxation and minimum taxation," Le Maire said.