France Offers No Kind Words to Help May With Brexit Troubles
(Bloomberg) -- If Theresa May needs help restoring political calm to hold together her government and Brexit plans, she's unlikely to find it in France.
Since the U.K. prime minister announced the deal, French Finance Minister Bruno Le Maire has repeatedly taken opportunities to paint bleak pictures of post-Brexit Britain and slam the British politicians who campaigned for Brexit as "liars."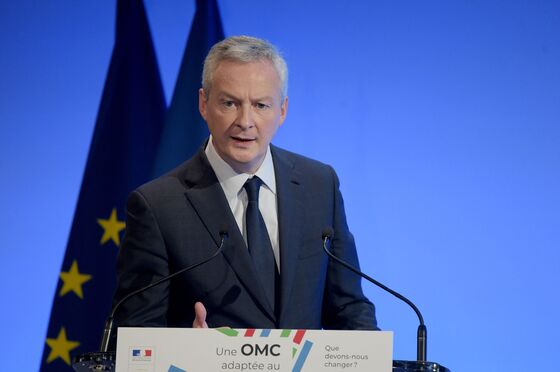 "There are lying and irresponsible politicians in the U.K. who explained to the British people that Brexit would result in a brighter tomorrow. The truth is that economically, Brexit could result in a nightmare," Le Maire told a conference on trade in Paris Friday.
Le Maire has ulterior motives for making Brexit a case study in the dangers of leaving the EU. He is on the front lines of a battle to keep alive French President Emmanuel Macron's dream of a European Union renaissance founded on deeper integration of the euro zone. That's proving difficult, as other countries are reluctant to hand over more sovereignty.
"What does Brexit show? Something simple: leaving the single, European market has an economic cost that is quite simply exorbitant," Le Maire said.
The French finance minister, who once said it would be "suicidal" to grant the U.K. a very favorable deal, had already rehearsed his harsh words Thursday when speaking at the Women's Forum in Paris.
"When you are lying to the people, there always comes a moment when you have to pay," Le Maire said. Underscoring his confidence in the EU project, he added he hopes the U.K. will want to return to the EU in "10 to 15 years."