France Toughens Covid Health Pass Rules, Speeds Up Boosters
(Bloomberg) -- France is toughening up rules on mask wearing and health passes, and urging people to have booster shots in an effort to fight the latest Covid wave without resorting to fresh curfews or lockdowns.
Vaccine boosters will now be rolled out to all adults, with the length of time between primary vaccination and third jabs shortened to five months from six, in line with recommendations from the country's health authority.
"This fifth wave will be unquestionably stronger and longer than the fourth wave," Health Minister Olivier Veran told a news conference in Paris on Thursday, adding that the winter weather would facilitate its spread as people spend more time indoors.
Daily coronavirus cases are increasing again in France, rising above 30,000 for the past two days, mirroring a surge in infections in other European countries such as Germany and Italy, which are tightening restrictions for the unvaccinated, and Austria, which went back into lockdown on Monday.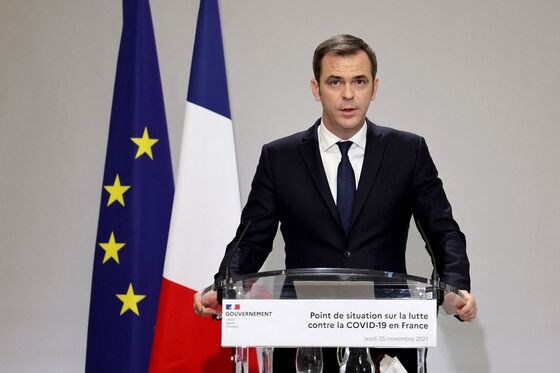 Veran said rules on mask wearing will be tightened, with face coverings compulsory anywhere indoors where a health pass is required and in certain outside areas such as Christmas markets and flea markets.
Booster jabs will be needed for health passes to remain valid from Dec. 15 for those age 65 and above, and from Jan. 15 for other adults, depending on when primary vaccination was completed. Unvaccinated people will need to pay for a test every day in order to have a valid pass, Veran said.
The health minister said the government was counting on people to adhere to stricter use of masks and passes, as well as vaccination to avoid having to resort to further lockdowns or curfews.
"Vaccination, health passes, social distancing: we already have the weapons at our disposal to fight this new wave," Veran said.
The minister added that France would soon have a new tool available to combat the disease, with the country due to become the first in Europe to offer Merck's oral antiviral medicine, Lagevrio (molnupiravir).
"We are putting a lot of hope in this treatment," Veran said, adding that the pills would be made available from the beginning of December, and could be prescribed by GPs and sold in pharmacies.