France Backtracks on Virus Warning About Spain and Portugal
(Bloomberg) -- France's government attempted to calm fears about holidaying in Spain and Portugal, backtracking on a minister's warning on Thursday about the rapid spread of the delta variant of Covid-19.
"Citizens who have booked holidays in Spain, Portugal or elsewhere shouldn't panic," French Health Minister Olivier Veran said Friday in a France Inter radio interview.
Veran insisted that travel to those countries is possible for those with a "health pass," the European Union's system to certify holders have been inoculated against the coronavirus, recovered from the illness or tested negative.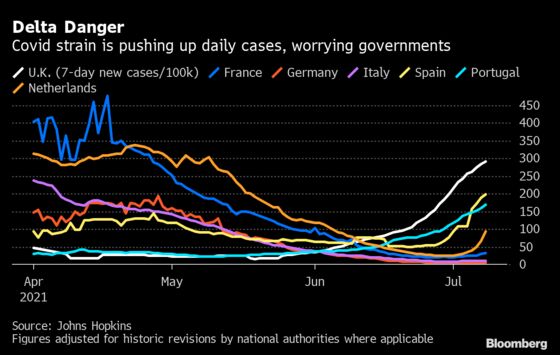 A day earlier, European Affairs Minister Clement Beaune issued what he described as a "message of caution" about Spain and Portugal. The comments added to the uncertainty about holiday plans as tourists try to navigate complicated rules on vaccinations, quarantine and isolation.
In Portugal, Economy Minister Pedro Siza Vieira said countries should rely on the vaccine certificate system now in place. It allows risks to be assessed less by region and more by "evaluating the specific situation of the person who intends to travel," he said.