Schism in Kenya Ruling Party May Revive Rift Valley Tensions
(Bloomberg) -- An alliance that helped deliver Kenyan President Uhuru Kenyatta two terms in office is fracturing, reviving tensions in the country's Rift Valley region that was wracked by widespread violence a decade ago.
The deputy chairman of the ruling Jubilee Party stepped down on Sunday after saying Deputy President William Ruto shouldn't be allowed to succeed Kenyatta. That undermines an arrangement in which Ruto delivered the backing of his Rift Valley constituents for Kenyatta's elections in 2013 and 2017, in return for assistance from the president's supporters in the next vote in 2022.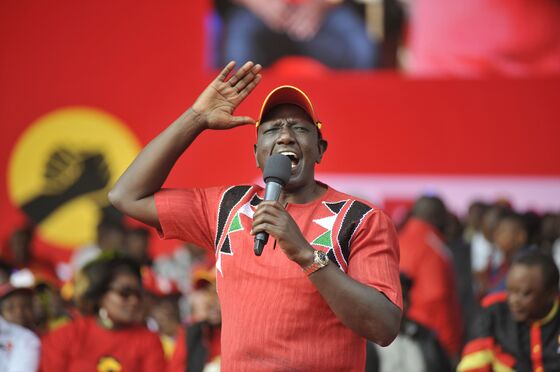 The schism in the Jubilee Party has brought to the fore long-held mistrust that many in the party have of Ruto, said Nic Cheeseman, professor of democracy at the University of Birmingham and author of How to Rig an Election. Ruto and Kenyatta were on opposite sides of a disputed 2007 election that triggered ethnic fighting in which more than 1,000 people died.
"Many people in the ruling coalition find it difficult to handle or support Ruto," he said. "Many do not trust him and still believe that he was to blame for some of the violence. This makes Ruto a hard sell for both ruling party leaders and many of its supporters."
Both Ruto and Kenyatta were indicted by the International Criminal Court on charges of crimes against humanity related to the post-election fighting. The cases collapsed over a lack of evidence and the two agreed to run together in the two subsequent elections.
The threat of a split in the party is already heightening tensions in Rift Valley, where much of the 2007 ethnic conflict happened, according to Murithi Mutiga, a senior analyst at the International Crisis Group.
"This is still a divided country because the hostilities of 2007 were never settled," Mutiga said. "They were postponed by the temporary union of Uhuru and Ruto, but the Rift Valley is still a powder keg."
Jubilee Vice Chairman David Murathe resigned abruptly on Sunday, a day after vowing to do anything he can to stop Ruto succeeding Kenyatta. On Monday, he told the Nairobi-based Star newspaper he'll form a new political movement for party members opposed to Ruto.
Ruto's spokesman David Mugonyi declined to comment, while calls to Murathe's mobile phone went unanswered.
In Kenya's ethnically tinged politics, some members of Kenyatta's Kikuyu community want to see another leader replace him in 2022, rather than hand power to Ruto, an ethnic Kalenjin, according to Cheeseman.
The Kikuyu are Kenya's biggest community, while the Kalenjin are the third-largest. Three of Kenya's four presidents since independence in 1963 have been Kikuyu, while one was Kalenjin. The East African nation has more than 40 ethnic groups.
The new party will likely form a coalition with former Prime Minister Raila Odinga, the paper said, without citing anyone. Talk about who will succeed Kenyatta is "premature," said Edwin Sifuna, secretary-general of Odinga's party, the Orange Democratic Movement.
"I can say as a matter of fact that we'll have a presidential candidate in the next general election," he said. "As to who that candidate will be, I can't tell."
The party's national executive committee is discussing a draft of proposals for constitutional amendments, Sifuna said, without giving details.
"As it stands, the endgame to the proposed amendments could be a Raila Odinga presidency and Uhuru Kenyatta installed as prime minister," EXX Africa Executive Director Robert Besseling said in an emailed note in December.
Odinga, a member of the Luo community, bitterly contested his loss in elections in 2013 and 2017 to Kenyatta. The two have since reconciled and agreed to work together.
A March 2018 rapprochement between Odinga and Kenyatta, known as "The Handshake," removed Ruto as the favorite to become the next president, according to Herman Manyora, a University of Nairobi lecturer and political analyst.
"The handshake changed the matrix," Manyora said. "It's now just a matter of time and Ruto's position as deputy president will be no longer tenable. He may remain in office, just hanging onto the title, but will have effectively lost all power."