Germany 'Would Not Mind' Giving May an Extension: Brexit Update
(Bloomberg) -- Parliament is inching toward a plan to delay Brexit as a way of preventing a chaotic no-deal departure. The pound rose.
Labour Party is likely to support lawmaker plan to delay Brexit and avoid no-deal
Pro-Brexit Trade Secretary Liam Fox hints he could live with short extension
Germany, EU, France say publicly that extension is possible
Goldman Sachs sees Brexit delayed till June
May says delay doesn't help, but doesn't rule it out
Barnier Lays Out Hard Border Issue (4:50 p.m.)
In Brussels, the EU's chief Brexit negotiator, Michel Barnier, has been talking about Ireland -- amid controversy over remarks on Tuesday from a European Commission spokesperson that there will be a hard border on the island if the U.K. leaves the bloc without a deal.
While he used his speech to say the border would remain the U.K.'s responsibility, he didn't conceal the problem. He underlined the importance of having checks at all of the EU's external frontiers -- which the Irish border will become -- in order to guard against the infiltration into the bloc's single market of sub-standard goods or unsafe food. That's the Irish government's dilemma in a nutshell.
The so-called backstop, enshrined in the Brexit deal, is intended to prevent controls at the Irish border unless or until a better arrangement is found, and Barnier showed no sign that the EU is willing to remove it to placate British lawmakers. He fell back on his well-rehearsed argument that the EU doesn't ever want to use it.
He said "no deal" would result in "no mutual trust" between the two sides for any future trade negotiations, and reiterated there would be no mini deals to soften the impact of leaving without agreement.
And he had a warning for the U.K. Parliament: "There appears to be a majority in the Commons to oppose a no-deal, but opposing a no-deal will not stop a no-deal from happening."
Attempt to Block the Brexit Delay Plan Fails (3.45 p.m.)
An attempt by pro-Brexit MPs to deny time to the Cooper-Boles bill, which would delay Britain's departure (see 11.30 a.m.) has failed. The government didn't move the business motion that the euro-skeptics were trying to amend, meaning the amendment didn't get voted on.
Germany Wouldn't Mind Extension (3:30 p.m.)
German Economy Minister Peter Altmaier confirms in public what officials have said in private: Germany would be comfortable with an extension of the exit day deadline.
"If the U.K. would need more time to clarify its position, I would not mind," Altmaier told a panel in Davos.
He's taken a slightly softer line than some other countries, which have argued that an extension would only be acceptable if there's a clear new plan on the table. (1 p.m.)
Rees-Mogg Issues Warning to May (3 p.m.)
After days of suggestions that they might be softening their attitude to May's
Deal, Brexit-backing Tories have come out fighting.
Jacob Rees-Mogg, the chairman of the pro-Brexit European Research Group, said that if the Cooper-Boles attempt to delay Britain's departure from the EU were to pass, the government should suspend Parliament -- using a process known as prorogation.
That would stop the current session, meaning that all pending legislation - including Cooper and Boles's bill - would fall. If the government didn't do this, Rees-Mogg told supporters in London, it would make May complicit in taking no-deal off the table, and her party would hold her to account.
That sounds like a veiled threat that his group of pro-Brexit lawmakers might try to bring down her government. He said he would never vote no confidence in the government, but the implication was that other Tory colleagues might.
Corbyn meeting architect of Brexit delay move (1:25 p.m.)
Jeremy Corbyn will meet Wednesday afternoon with Yvette Cooper, the Labour MP behind a cross-party move to delay Brexit if there's no deal, as he mulls whether to back the amendment she has co-written with Tory lawmaker Nick Boles.
Corbyn's spokesman tells reporters at a briefing in Parliament that Labour is looking at "all mechanisms" to take no-deal off the table and will "engage seriously" with all options -- including Cooper's proposal to extend the March 29 exit day deadline -- before deciding which to back.
John McDonnell, the party's economy spokesman, said on Tuesday evening that Cooper's proposal is a "sensible" way to avoid a no-deal split from the bloc. If Labour backs the proposal it is more likely to win enough support to be passed in the House of Commons.
France Says Delay is Possible But Not Simple (1 p.m.)
France would be willing to consider an extension to exit day but only if there's a clear change in policy that has the backing of a majority in the U.K. Parliament.
"For now it's a hypothesis, the U.K. government hasn't asked for a delay of the implementation of Article 50," EU Affairs Minister Nathalie Loiseau told reporters in Paris. "If there was to be a delay, the question would be what for, and for how long? The delay can't be to re-discuss what was already discussed and what was already agreed upon, the withdrawal accord."
Loiseau that "if the perimeter of the future relationship were to be changed, we would be there to discuss if a delay was necessary," she said. "It is technically and juridically feasible although it is not simple."
May Says Brexit Delay Isn't the Answer (12:30 p.m.)
May faced repeated questions in the Commons over whether she should extend Article 50 and delay Brexit beyond March. She's still against the idea, but her answers didn't close the door on it.
"Extending Article 50 I don't believe resolves any issues," May said. Parliament will still need to decide if it wants a deal, a no-deal Brexit, or no Brexit, she added.
She also made the case that the House of Commons has already voted to take the U.K. out of the EU on March 29 by endorsing the Article 50 timetable.
Support Grows for Backstop Amendment (12 p.m.)
Graham Brady, who is chairman of the 1922 Committee representing rank and file Conservative lawmakers said he favors the amendment submitted by his colleague Andrew Murrison which demands a time-limit on the Irish border backstop.
"If you get a majority for that it would be a really important step towards a meaningful concession from the EU,'' Brady said in an interview. "118 Tories voted against the PM's deal last week. I would be astonished if Murrison didn't get at least 100 to vote to for it and the DUP would come on board.''
The Northern Irish DUP holds 10 votes in the House of Commons. "At that stage you would have a very small gap and that could be filled by publicly spirited Labour MPs,'' Brady said.
Pound Pushes Through Key Level (11:45 a.m.)
The pound broke back through the $1.30 level amid continued market optimism that Parliament moves are reducing the risk of a no-deal Brexit. The currency also got some traction on the overnight report that Labour is likely to support the Cooper-Boles plan to delay Brexit, according to Jeremy Stretch, head of Group-of-10 currency strategy at Canadian Imperial Bank of Commerce.
Brexit-Backers Strike Back at Plan to Delay (11:30 a.m.)
With momentum in Parliament swinging toward delaying Brexit, anti-EU Conservatives are fighting back. They've proposed an amendment today that seeks to limit the amount of parliamentary time given to non-government business -- the immediate impact would be to kill off the cross-party effort led by Yvette Cooper and Nick Boles to force a Brexit delay if there isn't a deal.
But the latest amendment will struggle to pass even if the government backs it. Boles and the nearly 20 other Tories who support him aren't going to vote for it. It will, though, provide an interesting preview of next week's arithmetic.
On Twitter, Boles said his plan would be modified to "override" the Brexiters' amendment even if it did pass.
Fox Hints He Could Accept Delay to Get Deal Done (10:10 a.m.)
Trade Secretary Liam Fox told Bloomberg Television in Davos he's not against an extension of Article 50 in all circumstances. "A delay because we've got a deal and want to implement it, that would be one thing," he said in an interview when asked about Parliament moves to delay Brexit.
It's worth pointing out there are seven Brexit-related bills currently making their way through Parliament, according to Prime Minister Theresa May's office, and time is getting tight to pass them all. So a kind of last-minute, short extension to Article 50 might well be needed -- even if she does get her deal through Parliament.
The pound edged higher on Wednesday on growing expectations that a no-deal Brexit would be ruled out. And options also indicate investors expect a delay to exit day.
CBI Slams 'Fantasy Economics' of No-Deal Brexit (9:05 a.m.)
The idea of a smooth no-deal Brexit is nothing more than "fantasy economics" and no amount of trade agreements with other countries can compensate for lost trade with the European Union, Confederation of British Industry Director General Carolyn Fairbairn has warned.
Speaking to Bloomberg Television's Francine Lacqua in Davos, Fairbairn also said the vast majority of firms are not prepared for Britain to leave the EU without a trading agreement in place.
"We are talking to thousands of smaller businesses who say to us, actually we can't we can't be ready," she said. "There is just so much uncertainty, our supply chains are so complex, and they are saying Brexit simply cannot be managed. That is our big concern."
Dublin on Edge (9:05 a.m.)
In Dublin, nerves are beginning to jangle.
At first glance, the European Commission's comment Tuesday that a no-deal Brexit would mean a return of a hard border in Ireland is a statement of the obvious. Some, however, interpret the Commission's intervention as an effort to focus minds in Dublin on the consequences of no deal -- and a harbinger of pressure to come to soften the backstop.
Agriculture Minister Michael Creed sought to calm those concerns, telling broadcaster RTE that Brussels stands united behind the withdrawal agreement, and tried to turn the focus back to London, saying the best way to avoid the issue is by Westminster backing the deal.
Fox: No-Deal Brexit Is 'Real Possibility' (8:40 a.m.)
U.K. Trade Secretary Liam Fox is at the World Economic Forum in Davos, where he's telling everyone he meets that a no-deal Brexit is "a real possibility" and that they should get ready.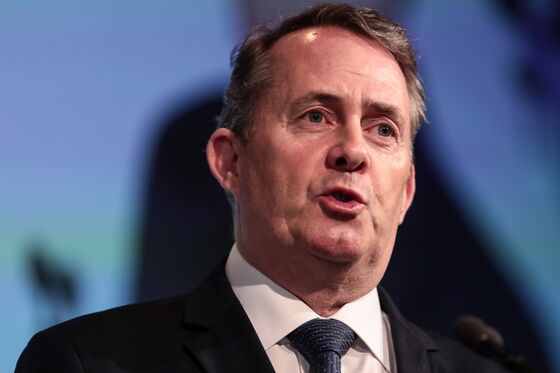 "We're not telling them to 'prepare for,' we're telling them to 'prepare in case of"' a no-deal Brexit, he told BBC Radio. In the interview, he also warned that the biggest danger facing Britain -- bigger even than a no-deal Brexit -- was not abiding by the result of the 2016 referendum. That would be "calamitous," he said.
Parliamentary moves to delay the U.K.'s departure from the EU if there's no deal were backed by people who wanted to "delay Brexit indefinitely," he said. Fox said the solution to the Brexit impasse was in changes to the Irish backstop, and that Prime Minister Prime Minister Theresa May was focusing her efforts on doing that.
Barnier Thinks Brexit Issues Can Be 'Overcome' (Earlier)
"I believe that we can overcome the current difficulties when we discuss that issue together," the EU's Brexit negotiator, Michel Barnier, said in an interview with the Luxembourg Times. A more ambitious future relationship could help make the Irish backstop -- the key stumbling block in the U.K. Parliament -- "less prominent," he said.
Barnier said his impression is that the backstop "is not the central issue," and that the key debate in the U.K. is over what the country's future should look like. British politicians need to find a "positive majority for something," he said.
Osborne: Delay 'Most Likely Option' (Earlier)
Former Chancellor of the Exchequer George Osborne has told the World Economic Forum in Davos "delay looks like the most likely option" in the Brexit process. "It gives some space."
Police Warns of No-Deal Brexit Risk (Earlier)
Neil Basu, Assistant Commissioner of London's Metropolitan Police, told the BBC that a no-deal Brexit "would not be good for security."
Theresa May takes Prime Minister's Questions at 12 p.m.