Farage's Party Surges, Tories Plunge in Poll: Brexit Update
(Bloomberg) -- Theresa May will put her Brexit deal back to Parliament at the start of June even though talks with the opposition Labour Party remain fraught. Her main hope seems to be that a drubbing in the European elections will force members of Parliament to swing behind her.
Brexit Secretary Steve Barclay signals that a plan to put various Brexit alternatives to Parliament in a series of so-called indicative votes has been ditched
Barclay says no-deal can't be ruled out
Liam Fox calls for MPs to back May's deal as "best" for the country so Westminster can turn to other issues
Defense Secretary Penny Mordaunt sets out her stall as future Tory leader

Farage's Party Surges, Tories Plunge in Poll (4:15 p.m.)
Survation just published its latest polling numbers for next week's European elections, and they're not pretty reading for the Tories.
The Conservative Party fell 4 percentage points from last month to 12%, while Nigel Farage's Brexit Party surged to a six-point lead on 30%. Labour was seen at 24%.
The pro-EU Liberal Democrats , Greens and Scottish National Party all gained, with 11%, 6% and 4% respectively, while Change UK, the pro-EU vehicle created by former Labour and Conservative politicians, is unchanged on 4%.
Survation interviewed 1,303 people aged 18 or over on May 8-9.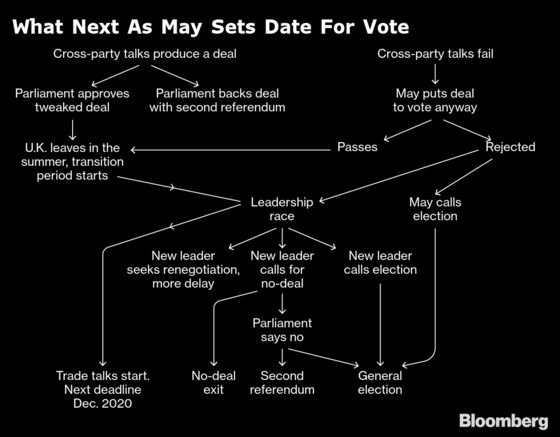 Will Labour Abstain on First May Deal Vote? (1:45 p.m.)
Unlike previous votes on May's deal, the Withdrawal Agreement Bill is a piece of legislation, which goes through multiple stages in Parliament before it passes. In theory, the opposition Labour Party could support the bill or abstain at the first vote in order to signify that it supports the general principle of leaving the EU with a deal, and then try to use later stages to change the nature of the agreement.
Labour leader Jeremy Corbyn's spokesman said the party wouldn't be able to support the bill, but refused to say whether it would abstain. That might be a signal that the party will let it go through, or it might just be that the decision hasn't been made yet.
May Fights Back Saying Tories Are the Brexit Party (1 p.m.)
Under pressure from the high poll ratings for Nigel Farage's Brexit Party ahead of next week's European Parliament elections, Theresa May insisted her Conservatives are the real Brexit party.
"If people want to vote for a party that is not only a Brexit party but a party that can deliver Brexit, they should vote Conservative,'' May told lawmakers in her weekly Question session in the House of Commons.
In a sign of her continued attempt to reach across the aisle to strike a deal with the opposition Labour Party, May also made an unusual step for a Tory politician, recognizing "the important role trade unions play in our democracy." Her government is committed to seeing "workers rights enhanced and improved,'' she added.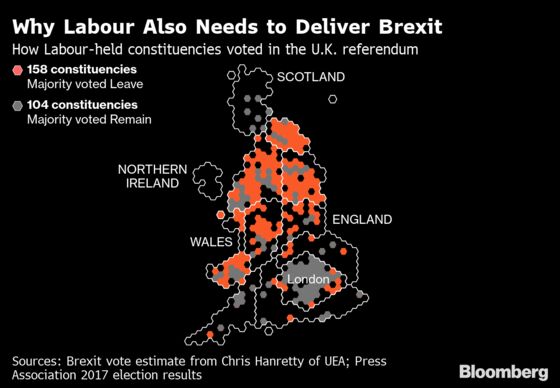 Have a Referendum But About How to Leave (12:38 a.m.)
Brexit Secretary Steve Barclay said that voters who supported Leave in 2016 weren't "stupid," and knew what they were voting for. He lashed out at those supporting a second referendum, saying what they actually want is to cancel Brexit.
"People that want a second referendum should say that they want to revoke," Barclay said. "All that is doing is prolonging the division, prolonging the uncertainty.''
Pushed by a panel in the House of Lords, he suggested the only referendum he could accept would be one that pits different ways of leaving against each other -- rather than offering an option to remain.
"If you want a confirmatory vote, you could have a confirmatory vote on different options of leave," he said.



Barclay Says Don't Rule Out No-Deal (12:25 p.m.)
Barclay said there's an "underestimation" of the risk of a no-deal Brexit. There are "growing voices in Europe," particularly from France that Brexit shouldn't be allowed to drag on beyond October, he told a panel in the House of Lords.
"Can you categorically say no-deal won't happen? Absolutely not," he said.

Barclay Suggests Indicative Votes Plan Dead (12:00 p.m.)
The Brexit secretary suggested May's plan to hold so-called "indicative votes" on different options if the talks with Labour fail is now dead. The point of that process would be to find a Brexit solution that has majority support in Parliament -- but Barclay said Labour won't sign up.
"There is little point in having indicative votes if people are not willing to be bound by the consequence of that,' Barclay told a panel of Lords on Wednesday. "To date the opposition are not willing to commit to that process.''
It's Decision Time, Says Barclay (11:40 a.m.)
Brexit Secretary Steve Barclay suggested that while talks between the government and the opposition Labour Party are ongoing, they shouldn't run for much longer.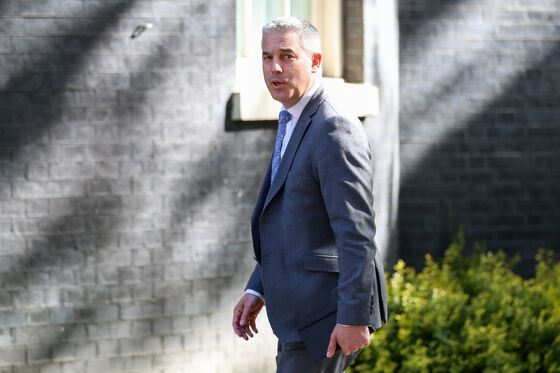 "Both sides now have a very good understanding of each other's positions,'' Barclay told a panel in the House of Lords. "We are very much at that point," where decisions need to be taken.
Barclay also acknowledged concerns in the Labour Party about how any Tory Party leadership change will affect the second part of the Brexit negotiations -- when the final trade deal between the EU and U.K. will be hashed out. He said he'd like there to be a "more transparent, trusting relationship" between government and Parliament in that phase.

U.K. Explores Changes to Brexit Deal With EU (11:35 a.m.)
Brexit Secretary Stephen Barclay said the government is gauging the appetite in Brussels to change the text of the political declaration setting out Britain's future relationship with the bloc. May's chief Brexit adviser Oliver Robbins traveled to the Belgian capital to meet his counterparts for discussions this week.
The idea of changing the non-binding future partnership document would be a response to requests from the opposition Labour Party, which is holding talks with May's government in an effort to reach a joint plan. "What is being explored with the EU is whether there is any appetite to do so, and if so, to what degree," Barclay told a panel of Lords on Wednesday.
If Parliament rejects the Withdrawal Agreement Bill next month, the Brexit deal will be dead and politicians will have to consider canceling the divorce or leaving the bloc without an agreement, Barclay said. It's time for members of Parliament to make their decisions, he said.
May to Face New Tory Push to Oust Her ( 11:30 a.m.)
Theresa May will face another attempt from her own Conservative members of Parliament to set out a timetable for her departure on Thursday. The executive of the 1922 Committee, representing rank-and-file Tory MPs, will use a meeting at the premier's office to urge her to quit as soon as possible, according to two of its members, speaking on condition of anonymity. They added that they don't expect May to do comply with their demand.
Fox: Vote for Brexit Deal and Move On (10:20 a.m.)
International Trade Secretary Liam Fox appealed to MPs to back Theresa May's deal and allow Parliament to get on with tackling issues that matter more to voters away from the "Westminster bubble."
"There'll be an opportunity for MPs to decide, after the local elections, after the European elections, whether they want to vote for Brexit or not," Fox said after a speech in central London. "MPs will have to look and see whether they want to continue down a path that inexorably takes us to revocation of Article 50 or leaving without a deal and decide whether that's best for the country, either democratically or economically," he said.
Fox, who campaigned to Leave the EU, said he wants the Brexit process "done and dusted" before a general election so politicians can talks to voters about issues. Fox, a former party chairman, said he will be voting Conservative because if MEPs take their seats they will have to consider wider issues than Brexit.
"Every vote that weakens the Conservative Party strengthens Mr Corbyn, which is the worst future for our country," Fox said.
Mordaunt Cites Thatcher in Leadership Pitch (10:10 a.m.)
Penny Mordaunt, the newly-installed defense secretary, launched a thinly-veiled Conservative leadership bid by harking back to what some Tories view as the party's 1980s glory days under Margaret Thatcher.
"Witnessing Thatcher's resolve" in 1982 during the Falklands War, "I knew Britain stood up to bullies," pro-Brexit Mordaunt said at an event in central London. It was one of four references to the former prime minister in her speech.
If Mordaunt manages to get through the Tory leadership competition among members of Parliament she, and one other finalist, would face a vote of the 124,000 rank-and-file Tories across the country -- many of whom idolize the former premier.