Four Reasons Why Democrats Aren't Rushing to Impeach Trump
(Bloomberg) -- House Democrats have strong incentives to avoid a high-stakes impeachment of President Donald Trump and are likely instead to look for ways to politically wound him heading into the 2020 election.
Leaders want to give the public a bigger window into the scandals and controversies that have dogged Trump since he announced his run for president by opening broad investigations into Trump and his associates.
But House Speaker Nancy Pelosi and her lieutenants have kept a lid on the clamor among party progressives to dive into impeachment proceedings -- at least until Special Counsel Robert Mueller wraps up his probe into Russian interference in the 2016 election.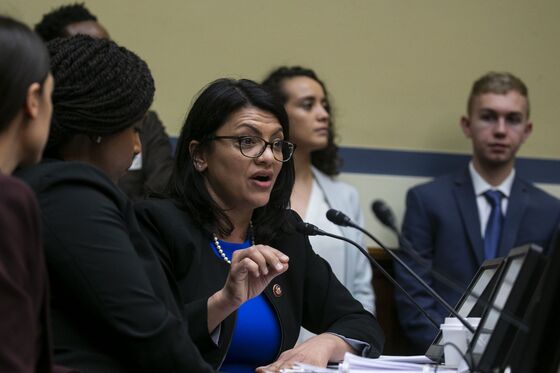 Efforts to impeach Trump by some House Democrats last year didn't go anywhere, but that hasn't stopped attempts to force the issue. Tom Steyer, the billionaire hedge fund manager turned liberal activist, is sustaining a campaign to rally public support for Trump's impeachment and pressure lawmakers. Freshman Democratic Representative Rashida Tlaib of Michigan, who grabbed attention and criticism January for saying "we're gonna impeach the motherf-----," said Wednesday she will soon file an impeachment resolution, apart from one already re-filed by Representatives Brad Sherman and Al Green.
Reasons for Democrats to slow-walk impeachment talk include:
A wounded-but-not impeached Trump could be easier to defeat.
"Donald trump is dragging the GOP down to defeat," said Democratic Representative Jamie Raskin of Maryland, member of the Judiciary and Oversight and Reform committees. "To impeach Donald Trump now is to offer a big helping hand to the Republican Party. And there aren't too many people in the mood to do them a favor."
2. Impeachment Dies in Senate
Any impeachment would likely die in the GOP-led Senate, barring new bombshell developments.
The Constitution requires 67 Senate votes to remove a president from office, and that means at least 20 Republicans knifing Trump. Given Trump's rock-solid support among Republican voters, that's not in the cards -- yet.
Pelosi has said impeachment needs to be a bipartisan exercise, and many Democrats agree. "We obviously can't do anything without Republicans in impeachment," Raskin said.
The impeachment of President Bill Clinton backfired on the GOP -- a point Senate Majority Leader Mitch McConnell highlighted Tuesday.
Judiciary Chairman Jerrold Nadler and Senate Democratic Leader Chuck Schumer were both then members of the Judiciary Committee, and opposed the impeachment on charges of perjury and obstruction of justice stemming from his affair with Monica Lewinski, which was revealed as a result of an independent counsel investigation of an unrelated matter. The Senate refused to convict Clinton.
Pelosi, Nadler and other Democrats know that in the aftermath, the Republican Party lost House seats, helping lead to Newt Gingrich's departure as speaker. Clinton's own poll ratings surged after he was impeached.
Battles over documents and testimony continuing into the 2020 campaign could make it look like the president has something to hide, and public hearings could put a microscope to his administration and finances.
If Mueller doesn't unearth evidence Trump was directly involved in improperly skewing the 2016 presidential election, Democrats still plan to pursue many other investigative threads.
The House Judiciary Committee, which has jurisdiction over impeachment, has begun a wide-ranging investigation with a batch of 81 requests for documents from the Trump administration, his family, associates, businesses and other entities. That's likely just the start of the demands for Trump-related materials.
Nadler said the focus won't be limited impeachable crimes and misdemeanors, either, as Democrats say they are fulfilling their constitutional oversight role.
Trump says it all adds up to harassment, and Republican allies hope a Democratic free-for-all fishing expedition will lead to a backlash.