Former UN Chief Raps Trump for Idling on Global Warming Preparation
(Bloomberg) -- Former United Nations Secretary General Ban Ki-moon is leading a new campaign to prepare the world for climate change, blaming U.S. President Donald Trump for setting back previous efforts amid increasingly dire warnings about the pace of global warming.
Ban, along with Microsoft Corp. co-founder Bill Gates and World Bank Chief Executive Kristalina Georgieva, are scheduled to announce on Tuesday formation of the Global Commission on Climate Adaptation. Sponsored by 17 countries including Germany, the U.K. and Canada, the commission will recommend steps for reducing the harm from rising temperatures, as well as the scientific and economic arguments for why countries should take those steps.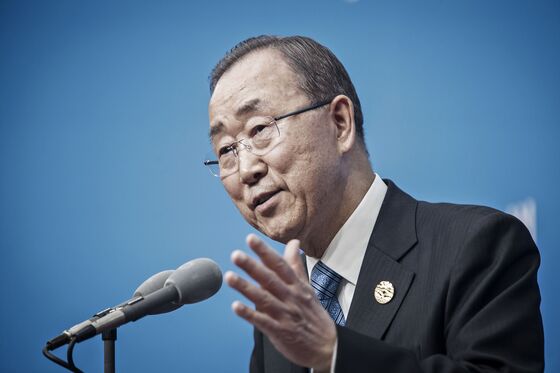 "We are far behind schedule," Ban said in a phone interview from South Korea last week. "We will try to again mobilize international political will."
The commission's formation comes a week after scientists convened by the UN's Intergovernmental Panel on Climate Change warned that the atmosphere is on track to warm 3 degrees Celsius by 2100. Even if countries can hold that warming to just 1.5 degrees, the world would experience massive consequences, from more extreme storms to food shortages and widespread species extinctions.
The group's efforts to prepare for those changes will be led by 28 commissioners, including senior officials from the UN, the Netherlands, the Philippines, China and the Marshall Islands, as well as the chief executives of Macquarie Group Ltd. and Koninklijke DSM NV. The commission will focus on climate-resilient agriculture and infrastructure, urban resilience to extreme weather and finding new ways to finance adaptation work, among other areas.
Ban said the move follows setbacks at the UN's chief vehicle for pushing global adaptation, called the Green Climate Fund. Established in 2010, the fund has committed $3.5 billion in projects aimed at reducing greenhouse gases and helping nations overcome the impact of climate change. Giving money to the fund was supposed to be one of the ways wealthy countries would honor their commitment to provide $100 billion annually by 2020 for adaptation and other projects.
Yet the fund has struggled since Trump vowed to slash funding for the initiative last year, saying he would not honor former President Barack Obama's pledge to provide $3 billion. Its board hasn't approved any new projects since March; the executive director resigned in July, and has yet to be replaced.
Simon Wilson, head of communications for the fund, said by email that the board's next meeting begins in Bahrain on Wednesday, where it will consider 20 new project proposals. Replacing the former executive director "is on the agenda," he said.
Ban said in the interview that governance issues are impacting the fund's mission.
"But more importantly, more seriously, we are far behind schedule to mobilize this Green Climate Fund $100 billion by 2020, and thereafter every year at $100 billion, because the United States is now stepping back," he said.
Trump's harm to the climate agenda went beyond the fund, Ban said. "Since the beginning of President Trump's administration, since my retirement from the United Nations, I am feeling very much concern," he said. Trump's announcement that the U.S. wouldn't fulfill its obligations has done "serious political damage on all international multilateral systems, including particularly climate actions."
Ban predicted that the U.S. would eventually rejoin the world's efforts to prepare for climate change.
"The problem is that President Trump, he doesn't listen to anybody's call," Ban said. "The U.S. will definitely have to come back. And I think they will come back. If not during President Trump's time, then whoever becomes his successor."