Former U.S. President George H.W. Bush Dies at 94, Family Says
(Bloomberg) -- George H.W. Bush, the 41st president of the U.S., serving from from 1989 to 1993, has died at age 94, his son George W. Bush, the 43rd president, said in a statement late Friday night.
"Jeb, Neil, Marvin, Doro, and I are saddened to announce that after 94 remarkable years, our dear Dad has died," the younger Bush said, referring to his siblings. His father died at his home in Houston.
"George H. W. Bush was a man of the highest character and the best dad a son or daughter could ask for. The entire Bush family is deeply grateful for 41's life and love, for the compassion of those who have cared and prayed for dad, and for the condolences of our friends and fellow citizens," Bush said in the statement.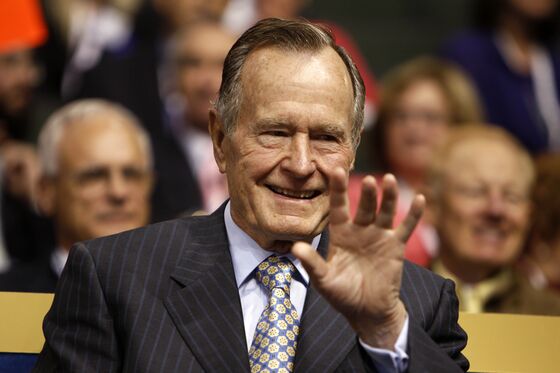 Bush, a Navy airman in World War II who had maintained an active lifestyle and went skydiving on his 90th birthday, was in and out of the hospital in recent years because of a series of health problems, including a bout of pneumonia that hospitalized him for two weeks last year.
Barbara Bush, his wife, died in April at age 92.
After the Navy and graduation from Yale University, Bush, who had grown up in Connecticut, moved his family to Texas and went into the oil business. He also began a long career in politics and and public service, including as a member of the U.S. House, ambassador to the United Nations, U.S. envoy to China, and as director of the CIA.
He ran for president in 1980, losing to Ronald Reagan. Reagan then picked him as his running mate. He served two terms as vice president before winning the 1988 presidential election. He lost the 1992 election to Democrat Bill Clinton.