Former Senator Perdue Won't Run Against Warnock in Georgia
(Bloomberg) -- Former Republican Senator David Perdue has decided not to run again next year against freshman Democratic Senator Raphael Warnock in Georgia as the parties vie for control of the narrowly split Senate.
Perdue, 71, had filed a statement of candidacy last week with the Federal Election Commission to challenge Warnock, 51, in the 2022 election, but announced Tuesday he and his wife, Bonnie, had decided against the effort.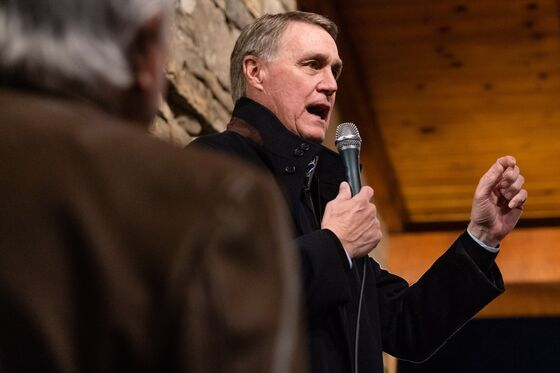 "This is a personal decision, not a political one. I am confident that whoever wins the Republican primary next year will defeat the Democrat candidate in the general election for this seat, and I will do everything I can to make that happen," he said.
The two Jan. 5 runoff elections gave Democrats the slimmest control of the U.S. Senate, with Perdue losing to Jon Ossoff and appointed Senator Kelly Loeffler losing to Warnock. Because Loeffler was finishing the term vacated by Johnny Isakson, Warnock is up for re-election in 2022.
"I am prepared to defeat whatever Republican they come up with," Warnock said to reporters on Tuesday.
The losses left the Senate split 50-50 and gave control to the Democrats with Vice President Kamala Harris able to break any ties.
Perdue had led in the first round of voting in November. He said the November result showed Georgia is not a Democratic state, and called for changes to Georgia's election laws despite a lack of evidence of widespread voter fraud.
"I am hopeful that the Georgia General Assembly, along with our statewide elected officials, will correct the inequities in our state laws and election rules so that, in the future, every legal voter will be treated equally and illegal votes will not be included," he said.
Perdue, a former chief executive of Reebok International Ltd. and Dollar General Corp., served one term in the Senate before losing one of the most expensive Senate races in history.
Both Perdue and Loeffler had aligned themselves closely with former President Donald Trump and backed some of his baseless claims of voter irregularities.
Other Republicans could also jump into the race, including former Representative Doug Collins, who lost to the self-financed Loeffler in the first round of voting last November.