Forint Drops as European Lawmakers Propose Hungary Sanctions
(Bloomberg) -- The forint weakened after the European Parliament adopted a recommendation to punish Hungary for the perceived erosion of the rule of law, a process that is still unlikely to yield concrete sanctions.
The currency slipped to the lowest level in almost a week against the euro, while Hungarian stocks reversed gains, with companies linked to Lorinc Meszaros, an ally of Prime Minister Viktor Orban, leading declines. Before Tuesday's moves, investors had largely looked past the spat between Orban and the European Union as Poland's government has pledged to block sanctions that could include the suspension of Hungary's voting rights.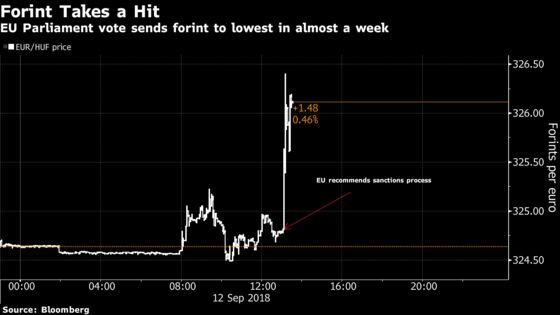 With Hungary's economy growing last quarter at the fastest pace in more than a decade, inflation within the central bank's target band and government debt falling, the eastern European nation has emerged as an oasis amid a more volatile emerging-market landscape. Foreign ownership of forint-denominated government bonds rose to the highest level in more than two years last week.
The forint slipped 0.3 percent to 325.72 per euro as of 2:31 p.m. in Budapest, after touching 326.40, the weakest level since Sept. 6. It was the worst-performing currency among emerging-market peers. The benchmark BUX stock index fell as much as 0.6 percent to the lowest level since Aug. 24, having climbed 0.6 percent earlier.
"We could see some further near-term weakness, but essentially this does not change anything, as we need an unanimous decision to trigger punitive measures," said Henrik Gullberg, an emerging-market strategist at Nomura International Plc in London. He recommended investors buy the forint if it weakens past 328 per euro to bet on strong economic fundamentals.
While most investors expected limited short-term implications from the vote, in the longer run, it may distance Orban from his political family, the European People's Party, and Germany's Chancellor Angela Merkel. A potential isolation of Hungary within Europe could, in turn, lead to a weaker hand for Orban in haggling for development funds under the bloc's new seven-year budget, according to UniCredit SpA analyst Dan Bucsa.
"The direct political implications of Article 7 are limited, so the market impact of today's vote should be limited and reversible," Bucsa said by email from London. "However, the standoff with EU institutions weakens Hungary's bargaining power for the next EU budget. In percent of GDP, the potential cut in EU funds allotted to Hungary in the 2021-27 EU budget could be one of the largest in CEE."