Forged to Tackle Virus, Israel's Alliance of Rivals Falls Short
Go out and "have fun," Benjamin Netanyahu exulted in late May after his government loosened tough restrictions that kept Israel's coronavirus outbreak in check.
But a quick return to crowded classrooms, lax enforcement of social distancing and wearing masks, and inadequate testing have reduced Israel's success story to tatters. Now, instead of boasting about his government's achievements and encouraging Israelis to celebrate, Netanyahu is threatening a return to a full-blown lockdown as soon as next week.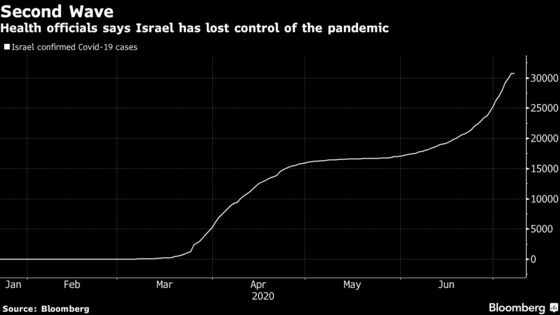 The situation deteriorated after Netanyahu persuaded rival Benny Gantz to join his government by arguing they could more effectively tackle the outbreak together. A recent poll shows the public is increasingly dissatisfied with the prime minister's handling of the health crisis.
With daily new cases surging to about 1,000 from just low double-digits in May, Israeli health officials are saying the government has lost control of the pandemic. The country's top public health official resigned on Tuesday, saying Israel has moved in a "dangerous direction" in recent weeks and accusing the new stewards at the Ministry of Health of ignoring her professional advice.
"The first wave was characterized by professional and moral leadership that put human life first and above any other consideration," Siegal Sadetzki wrote on her Facebook page. "My feeling is that over time, we went from being professionals who proactively reacted to events to those with responsibilities but no authority responding belatedly to events."
The prime minister's office and the Health Ministry didn't immediately reply to a request for comment on the government's performance.
On Monday, the central bank offered a starker picture of this year's projected economic contraction, now forecast at 6%. Unemployment, which surged to 28% in April from 3.4% in March, continued to top 20% even after most restrictions were lifted. While the death toll hasn't surged yet -- it's about 340 now -- the number of serious cases has climbed, and hospital officials are worried their facilities will be overwhelmed.
In the meantime, the 2-month-old "coronavirus government" that kept Netanyahu in office after three inconclusive elections is trundling along on shaky ground.
The prime minister has resisted transferring command of the pandemic response to the Defense Ministry under Gantz, who argues that the military is the only logistical body large enough to deal with a sustained nationwide crisis. Netanyahu is also said to have threatened to hold snap elections if Gantz doesn't back down on his demand for a two-year budget, as anchored in their coalition agreement.
When their minds have met, it's led to sometimes rocky results.
The government reimposed restrictions on public spaces and gatherings -- bringing new challenges for small business owners still struggling to receive their slice of the government's 100 billion-shekel ($28.8 billion) aid program, and slowing the return of hundreds of thousands of Israelis to work. It's also reinstated a controversial contact-tracing program.
Stepped-up enforcement of mask-wearing, replete with fines, has been ordered, and the country has dramatically increased the number of daily tests. That's led in part to the rising number of new cases, but has also shown a higher rate of contagion.
"If we do not act now, we will have hundreds, and perhaps over 1,000, severe cases in the coming weeks, which will paralyze our systems," Netanyahu said on Monday. "We must take immediate steps that will prevent us from having to take even more extreme measures later."