Foreign Investment Into Brazil Hits 25-Year Low 
(Bloomberg) -- Brazil recorded the smallest foreign direct investment for the month of April in a quarter century as international firms backed out of local spending plans amid a global economic downturn.
Foreign direct investments fell to $234 million last month, according to central bank data published on Tuesday, below the forecast of $1.5 billion from both the monetary authority and analysts in a Bloomberg survey. That result sank rolling 12-month investment inflows to the lowest since last October.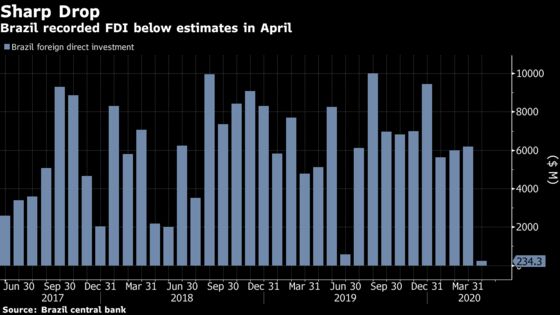 Brazil's central bank attributed the drop to $834 million in divestments spurred by a plunge in global activity. Meanwhile, April was also marked by an upswing in political instability in President Jair Bolsonaro's administration amid the coronavirus outbreak.
Next month, the monetary authority is expected cut its 2020 foreign direct investment forecast, which currently stands at $60 billion after having been reduced from $80 billion earlier this year.