Flynn's Leniency Bid Pairs Contrition With Criticism of FBI
(Bloomberg) -- Michael Flynn, the Trump administration's former national security adviser who pleaded guilty to lying about his contacts with Russia's ambassador, should be spared prison for his cooperation with U.S. prosecutors, his lawyers wrote to the sentencing judge, even as they criticized the conduct of FBI agents who initially questioned him.
Flynn deserves a term of probation and community service rather than jail, his lawyers said in a 178-page memo filed late Tuesday in federal court in Washington. U.S. District Judge Emmet G. Sullivan will sentence the retired U.S. Army lieutenant general on Dec. 18.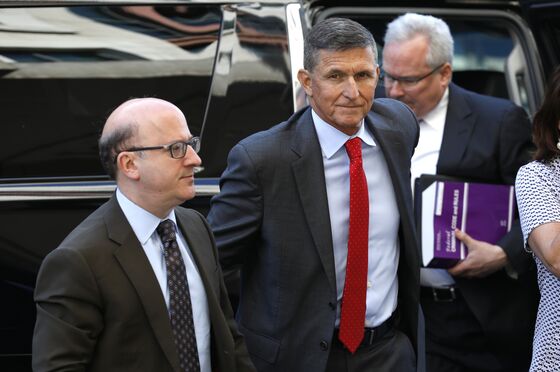 Since pleading guilty a year ago to lying to the FBI about the ambassador and his lobbying on behalf of Turkey's government, Flynn "cooperated extensively" with several Justice Department investigations, according to the filing. They include Special Counsel Robert Mueller's probe of whether members of President Donald Trump's campaign coordinated with Russians who interfered in the 2016 election.
Flynn underwent 19 debriefing sessions by Mueller's team and other Justice Department prosecutors, while handing over thousands of documents, according to the filing. One investigation is believed to involve the Turkish government's secret influence campaign during the 2016 election, which Flynn was paid more than $500,000 to aid, according to a person familiar with the investigation who asked not to be identified.
Federal prosecutors in Virginia are presenting evidence to a grand jury regarding Turkey's lobbying efforts to get custody of Fetullah Gulen, a Turkish cleric and opposition leader who is living in Pennsylvania, the person said. Turkish President Recep Tayyip Erdogan has blamed Gulen for inciting a failed coup attempt in 2016. Flynn and his business partner, Bijan Kian, were enlisted to help generate political support to have him returned to Turkey.
Read More: Flynn's Side Deals, Links to Trump Aides Offer Clues for Mueller
The filing stressed Flynn's character and lifetime of achievements in joining Mueller's filing last week that also urged leniency at sentencing.
"General Flynn's case stands out in several respects: his exceptional record of military service; his genuine contrition for the uncharacteristic error in judgment that brought him before this court; and his deep respect for the law, as reflected in his extensive cooperation with the government's efforts to get to the truth," wrote Flynn attorneys Robert Kelner and Stephen Anthony.
Despite touting Flynn's cooperation, his lawyers also criticized an interview by then-FBI Deputy Director Andrew McCabe and former Deputy Assistant Director Peter Strzok on Jan. 24, 2017, just days after Trump's inauguration. McCabe called Flynn in the White House and said two agents, including Strzok, should meet him to discuss his communications with Russian representatives, according to the filing.
Agents didn't warn Flynn of the penalties he faced for making false statements, the lawyers wrote. Mr. McCabe and other FBI officials "decided the agents would not warn Flynn that it was a crime to lie during an FBI interview because they wanted Flynn to be relaxed, and they were concerned that giving the warnings might adversely affect the rapport," according to reports cited in the filing.
Both McCabe and Strzok were later fired for reasons unrelated to the Flynn interview.
The filing cited Flynn's 33-year military career in which he was a "highly decorated intelligence officer" who "saved countless American lives." He also displayed a "lifetime of faithful devotion to his family and fellow service members and veterans."
Beyond Flynn's service record, his lawyers touted their client's "genuine contrition for the uncharacteristic error in judgment," that was his criminal offense.
In arguing for making their bid for probation, the lawyers sought to distinguish the general's offense of lying from those of one-time Trump campaign foreign policy adviser George Papadopoulos and from London-based attorney Alex van der Zwaan.
Each pleaded guilty to lying to investigators. Papadopoulos drew a 14-day prison term while van der Zwaan received a 30-day punishment. Unlike Flynn, Papadopoulos had been warned that lying in that context would be a federal offense. Van der Zwaan, too, had been given that caveat, Flynn's attorneys said.
In 50 letters attached to the filing, many of Flynn's former military colleagues, friends and family attested to his moral character, leadership skills and bravery.
The case is U.S. v. Flynn, 17-cr-00232, U.S. District Court, District of Columbia.