Flynn Asks for Probation, Community Service in Lying Case
(Bloomberg) -- Lawyers for Michael T. Flynn told a U.S. judge the former national security adviser should receive no more than probation after pleading guilty to lying to federal agents. They said prosecutors are retaliating against Flynn for refusing to lie during a trial last year by asking the court to impose as long as six months' jail time.
The filing Wednesday by Flynn's lawyers follows an earlier submission telling U.S. District Judge Emmet Sullivan that the retired Army general is in fact innocent of the charge against him that that they wish to withdraw his plea altogether. The judge has yet to rule on that submission.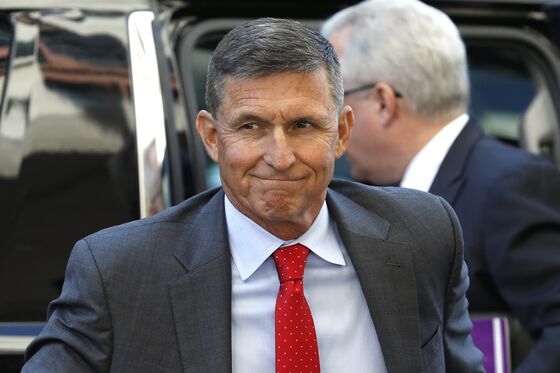 Flynn, who served just three weeks as President Donald Trump's national security adviser before being fired, pleaded guilty to that single charge in Dec. 2017. He is set to be sentenced on Feb. 27.
Defense lawyer Sidney Powell has spent the past seven months sparring with federal prosecutors over the evidence against her client and whether he was manipulated into pleading guilty. The court has already rejected her motion to dismiss the case for prosecutorial misconduct.