Veteran's Rejected Ballot Becomes Part of Florida Senate Lawsuit
(Bloomberg) -- Democratic Florida Senator Bill Nelson's lawyers cited a veteran's rejected ballot in court to make the case that state laws let election workers arbitrarily reject ballots, amid a recount of last week's voting that left Republican Rick Scott with a narrow lead.
The wrangling over the results in Florida's Senate and governor's races, which have implications for the 2020 presidential election, has drawn the ire of President Donald Trump, who claimed without evidence on Twitter that "missing or forged" ballots meant "an honest vote count is no longer possible."
Nelson filed sworn affidavits from two voters, including a veteran, who say their mail-in ballots were wrongfully rejected over mismatched signatures. The senator sued in Tallahassee federal court to get all provisional and mail-in ballots counted regardless of whether they've been rejected over mismatched signatures.
"The signature-matching laws are effectively disenfranchising laws," Marc Elias, a Nelson attorney, said on a call with reporters Monday. "They are another way that unfortunately Republican state legislatures have found to disenfranchise voters, particularly younger voters, first-time voters, older voters and voters of color."
Lawyers for Nelson cited the veteran, Fallon Williams, of Tampa, and a Massachusetts college student whose permanent residence is in Miami-Dade County, as examples of how state law allows ballots to be arbitrarily rejected by election workers who aren't experts in signature analysis. Nelson argues that thousands of ballots are at issue, although his legal team hasn't been more specific. Scott has declared himself the winner.
Chief Judge Mark Walker scheduled a hearing for Nov. 14.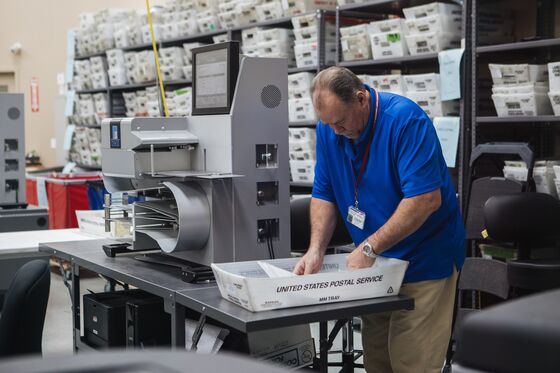 Williams said she voted by mail for the first time on Oct. 10, almost a month before Election Day. She said she was told on Nov. 8, two days after the election, that her ballot had been rejected because the signature on her ballot envelope didn't match her partial digital signature from the Department of Motor Vehicles from a decade ago, according to the filing.
She said she tried and failed to address the issue in person.
"I presented my driver's license identification and provided a new signature, to demonstrate that the signature on the vote by mail ballot envelope was mine," Williams said. "However, despite these efforts, I was informed that my vote would not be counted in the November 6, 2018 election."
Ezekiel Andreassen, the college student, said he was told on Election Day that his ballot had been rejected over a mismatched signature, and that his attempts to correct the issue with a copy of his driver's license and another affidavit failed.
"It is important to me that my vote cast count in the Nov. 6, 2018, election," he said in the filing.
Florida voters cast more than 8.1 million ballots in the Senate election, with Scott holding on to a lead of about 12,500.
Florida Attorney General Pam Bondi also weighed in on Monday, saying in a separate filing that Nelson's campaign filed the lawsuit too late to tackle a state law that's been on the books for years.
Florida law "expressly and unambiguously requires signature verification," said Bondi, a Republican. "Plaintiffs offer no reason why they could not have raised these specific challenges earlier than forty-eight hours after the 2018 General Election concluded."
The state also says Florida's election laws apply uniformly to all voters, regardless of race, sex, age, party affiliation "or any other improper consideration."
In a separate lawsuit, a Broward judge on Monday turned down Scott's request to impound all voting machines in the county's election headquarters, according to the Miami Herald. The judge agreed to allow the assignment of three additional deputies to protect the machines and ballots during the Senate election recount, the newspaper said.
The legal fights are going on a week after midterm elections in which Democrats retook control of the House while Republicans held onto their Senate majority. The Florida recount will decide the fate of a Senate seat and a governorship in a state that will be pivotal in the 2020 presidential contest.
Florida is one of two states where the outcome of Senate races is still unsettled. In Mississippi, Democratic former Agriculture Secretary Mike Espy aims to upset Republican Senator Cindy Hyde-Smith in the Nov. 27 Senate special election runoff. On Monday evening in Arizona, the AP declared Democrat Kyrsten Sinema the winner over Republican Martha McSally.
While the results in those states won't shift control of the Senate, they will determine how big a cushion Republicans have to continue confirming Trump's judicial and other nominees.
Another ballot concern making the rounds in Florida: Bay County Supervisor of Elections Mark Andersen originally told an NBC affiliate that he took 147 ballots by email from voters in his Florida Panhandle jurisdiction who were displaced by Hurricane Michael. While an executive order made certain allowances for hurricane-victim voters, the order specifically stated: "Voting by fax or email is not an option."