Florida Secretary of State Sets Hand Recount in Senate Race
(Bloomberg) -- Ballots in Florida's tight U.S. Senate race will be tallied by hand after a machine recount narrowly expanded Republican Rick Scott's lead, but not by enough to end incumbent Democrat Bill Nelson's fight to retain his seat.
Three hours after a federal judge ruled against Nelson's request that the deadline for Florida's mechanical recount be extended, election officials announced the tabulation had boosted Scott's 12,562-vote lead by 41 votes out of 8.2 million cast in a state that will be pivotal in the 2020 presidential contest.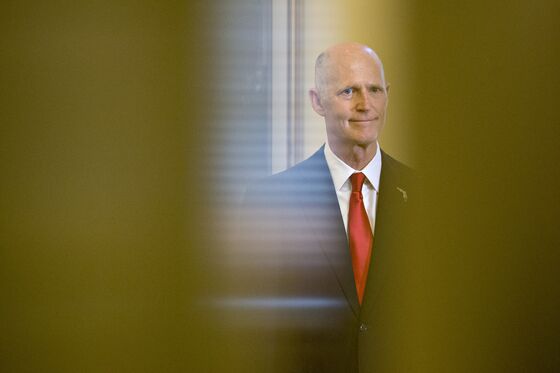 In the race for governor, the machine recount confirmed that Republican Ron DeSantis had defeated Democrat Andrew Gillum. DeSantis' margin of victory shrunk by a single vote, to 33,683, leaving Gillum short of the hand-recount-threshold of 0.25 percentage point or less.
Florida Secretary of State Ken Detzner also called for a hand recount in the race for agriculture commissioner.
But in a stunning development an hour after the results were released, Broward County -- the state's second largest -- disclosed that the machine recount results it rushed to pull together were uploaded late and wouldn't count. That meant both the state's second and third-largest counties -- Broward and Palm Beach, respectively -- both failed to meet the deadline, raising major questions about the new numbers.
The Senate results kept hopes alive for the Nelson campaign in a recount fight that has captured the nation's attention a week after his fellow Democrats retook control of the U.S. House while Republicans held on to their Senate majority. The results won't shift control of the Senate, but they will determine how big a cushion Republicans have to continue confirming President Donald Trump's judicial and other nominees.
Nelson attorney Marc Elias said the campaign has thousands of volunteers working in shifts to help monitor the recount process over the next few days.
"We are also vigilant to make sure every vote is counted," Elias said, adding that his team won't hesitate to take further legal action if necessary.
Even before the machine-count results were posted, Scott in a statement again called for Nelson to concede: "It is time for Bill Nelson to respect the will of the voters and graciously bring this process to an end, rather than proceed with yet another count of the votes -- which will yield the same result, and bring more embarrassment to the state that we both love and have served."
Without evidence, Scott, Florida's outgoing governor, and Trump had called the machine recount a fraud, though it wound up extending the Republican's lead.
The manual recount only involves so-called overvotes and undervotes -- those in which too many or too few bubbles were filled in -- and is not in fact a hand count of all ballots.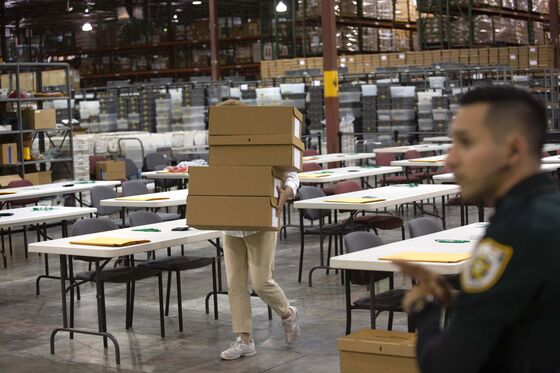 Election officials in Palm Beach County said they were hours away from completing their machine recount when the deadline expired. Citing the incomplete results, Elias tweeted that the campaign had sued Palm Beach County and the Florida secretary of state's office "to require a hand recount of all ballots in the county due to systematic machine failure during the machine recount."
Elias noted that while Scott's lead is roughly the same as it was before the machine recount, the exact margin is unclear since some counties were unable to complete the process by Thursday's deadline. He said the manual recount should be more precise because human eyes will catch marks that were missed by the ballot-reading machines.
"It has never been our view that there was going to be one silver bullet that was going to change the margin in this race," Elias said, but rather a number of ballot-counting corrections that will contribute to shrinking Scott's lead.
Elias said he expects Scott's margin "to go down" and eventually "disappear entirely" after reviewing the undervotes -- especially in Broward county. Including ballots previously rejected because of a signature mismatch and counting mail-in votes that were postmarked before election day should also help Nelson catch up, Elias said.
Florida is one of two states where apparent Republican victories on election night have spawned legal battles over counting votes. The other is Georgia, where Democrat Stacey Abrams is trying to get enough votes in the governor's race to force a runoff with Republican Brian Kemp. Federal courts have ordered the state to delay certifying the vote there until Nov. 16 and required counties to count absentee ballots rejected because of missing or incorrect birthdates.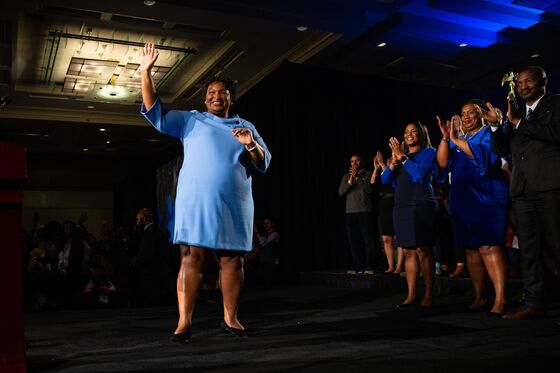 In his ruling earlier in the day, U.S. District Judge Mark Walker said in Florida's election that it's unfair to treat voters differently based on the county they live in but that he couldn't grant an injunction Nelson sought to extend the machine recount deadline because he doesn't have enough information.
"There is a complete dearth of evidence before this court concerning the status, progress or expected completion of the ordered recounts in Palm Beach County," he said. "This court does not and will not fashion a remedy in the dark."
In a separate case, Walker ruled earlier on Thursday that the state's law for handling ballots with mismatched signatures was applied unconstitutionally and ordered the state to give voters two more days to prove their identity and ensure their votes are included. He told Detzner to give voters whose mail-in or provisional ballots were rejected until 5 p.m. on Nov. 17 to "cure" any deficiencies in their signatures.
Only about 5,000 invalidated ballots at best could be restored by curing the signature problems. And even if all of them are for Nelson, he would likely still be short thousands of votes unless the recount shifts many more ballots in his favor.
Walker also denied Nelson's request for the publication of a list of ballots rejected because of their signatures. He said he didn't want the courts to be used by either party to gain access to voters whom they could reach out to based on their party affiliation.
"That is the kind of gamesmanship that will undermine faith in our democracy further," he said. "I will not be part of it."
Over the course of two days of hearings, Walker repeatedly referenced Florida's long history of voter suppression, citing slavery, the fight for women's suffrage and the Civil Rights movement. But he was skeptical of the court's role in interfering in elections once they were already underway, and his limited ruling on ballots that were rejected over signature mismatches was far from what Nelson's legal team wanted.
Fallon Williams, a veteran from Tampa who the Nelson campaign cited in making its case about the signature mismatch issue, said Thursday's ruling allowed her to get her situation worked out. But she was already concerned about future elections.
"This is a temporary fix," she said. "We need the law to be amended so that signatures in the future do not have this problem."