Florida Education Board Moves to Enforce DeSantis Ban on Mask Mandates
(Bloomberg) -- Florida's State Board of Education said it would force defiant school districts to comply with Republican Governor Ron DeSantis's executive order forbidding them from mandating students wear masks as a way to slow a surge in Covid-19 cases.
The board ordered the state's education commissioner -- a DeSantis appointee -- to "take all legal steps" necessary to compel districts to drop their mandates. That could include withholding state funding and removing local officers from their posts.
The highly-contagious Delta variant has turned Florida into the epicenter of the Covid-19 pandemic in the U.S. Even so, DeSantis, a rising star in the Republican Party, has dug in his heels in opposition to mandates, telling schools that they must allow parents a chance to opt-out of any campus mask rule at their discretion.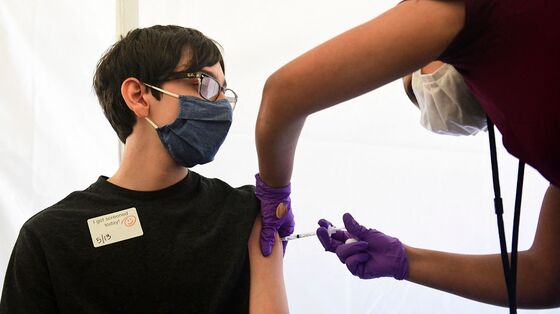 "Every school board member and every school superintendent have a duty to comply with the law, whether they agree with it or not," Commissioner Richard Corcoran said in a letter posted on the board of education's website. "I recommend that the State Board of Education use its enforcement powers to enforce the health protocols found in Emergency Rule 64DER21-12 and protect the right of parents to make health and educational decisions for their children."
In Palm Beach and Hillsborough Counties, which both started school on Aug. 10, nearly 10,000 of about 380,000 students already are under stay-home directives related to Covid. School officials there have been following state guidelines and allowing parents to opt out of mask requirements for their children. The U.S. Centers for Disease Control and Prevention says masks are most effective when everybody wears them.
Broward County Public Schools, the second-largest district in the state, and Alachua County Public Schools have both maintained plans to impose mask mandates for students and staff despite the governor's executive order. 
Education board Chairman Tom Grady said that that while financial penalties should be considered, they should be directed at local school officials and not students.  
"The only way the state could tailor the financial penalties to hold accountable the few officials who made the decision to break the law, would be to withhold state funding in the exact amount of those officials' salaries," DeSantis spokesperson Christina Pushaw said in an email Tuesday. 
The fight has drawn the attention of the Biden Administration. In a letter to the governor and the Florida Commissioner of Education, U.S. Secretary of Education Miguel Cardona said the administration supports districts that have adopted mask policies in defiance of state leadership. He also said districts could use federal stimulus funds to pay the full salaries of educators if the governor cuts their salaries.
"I am deeply concerned about Florida's July 30 Executive Order prohibiting school districts from adopting universal masking policies," Cardona said in the letter. "The Department stands with these dedicated educators who are working to safely reopen schools and maintain safe in-person instruction."
The mask mandate law has also spurred legal battles for the governor, who has asked a judge to throw out a lawsuit by parents challenging the ban. Judge John C. Cooper of Florida's second judicial circuit said last week he'd hear arguments on Aug. 19 and rule the same day on the state's motion to dismiss.