Alcee Hastings, Impeached Judge Elected to House, Dies at 84
(Bloomberg) -- Democratic Representative Alcee Hastings, the longest serving member of Florida's Congressional delegation, has died, according to a statement from his family. He was 84.
Hastings announced in January 2019 that he was being treated for pancreatic cancer, calling the diagnosis "traumatizing news," but saying his treatment was "a battle worth fighting."
His family said Hastings "lived a full life with an indelible fighting spirit dedicated to equal justice."
Hastings, who served in Congress since 1993, represented a district that includes parts of Broward and Palm Beach Counties.
His political career was marked by comebacks, and sometimes controversy. He was elected to Congress after his impeachment and removal from the bench in 1989 as a U.S. District Court judge for the Southern District of Florida.
He was viewed as one of Congress's champions for the rights of minorities, women, the elderly, children and immigrants. But Hastings was also accused in a high-profile 2011 lawsuit of sexual misconduct when was chairman of the the Commission on Security and Cooperation in Europe, charges he denied.
Under election law, Florida Governor Ron DeSantis, a Republican, will decide when to schedule a special election for a district that heavily favors Democrats. Until Hastings's seat is filled, his death narrows an already slim Democratic majority in the House.
Democrats will now hold a 218 to 211 margin, with a recently elected Louisiana Republican yet to be sworn in. Another vacant House seat from Louisiana will be filled after an April 24 election runoff between two Democrats.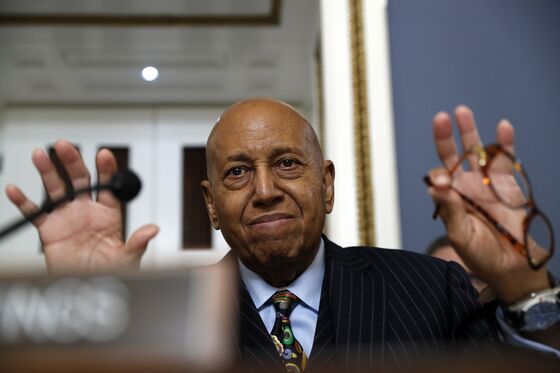 Speaker Nancy Pelosi said he left behind "a powerful legacy of activism and action on behalf of Floridians and all Americans.
"His leadership and friendship will be missed by his many friends in Congress," she said in a statement.
Hastings was a federal judge before he was a congressman. A federal grand jury indicted Hastings in a bribery case involving soliciting money in return for reducing the sentences of two mob-connected felons, but he was acquitted in a criminal court in 1983 and returned to his judicial post.
The House later impeached him, and the Senate in October 1989 convicted him on eight articles. The president pro tempore of the Senate ordered Hastings removed from office.
Hastings later ran for his seat in the House and was elected the first African-American representative from Florida since the post-Civil War period.
In 2011, Hastings found himself the center of another controversy. A former staff member of the Helsinki Commission, which promotes international human rights, accused Hastings of making sexual advances and threatening her job. Hastings, who at the time was commission's chairman, denied the charges.
A federal judge in 2012 ruled that Hastings could not be held personally liable in a sexual harassment lawsuit. But in 2017, documents obtained by Roll Call showed the Treasury Department in 2014 paid $220,000 in an previously secret agreement to settle the matter.
Massachusetts Representative Jim McGovern, who chairs the Rules Committee of which Hastings was a member, said the Florida Democrat "used his life experience to fight tirelessly for those who needed a voice."
"I have lost a friend, this Congress has lost a giant, and those who all too often go unseen in America have lost a champion," McGovern said Tuesday in a statement.
Hastings was born and raised in Seminole County, Florida and attended segregated public schools. His parents, domestic servants, often worked in California and New York leaving him under the care of his maternal grandmother. He earned a biology degree from Fisk University, in Nashville, Tennessee and started law school at Howard University in Washington, D.C., before transferring and completing his law degree from Florida A&M.