Five Star Resists Italian Push to Hand Carige Public Money
(Bloomberg) -- Italy's anti-establishment Five Star Movement is resisting attempts by its coalition partner to use taxpayers' money to bail out a struggling lender as the populist administration wrestles with its first bank crisis.
The anti-migration League of Deputy Premier Matteo Salvini, Five Star's ally in the ruling coalition, is pushing for a larger bank to step in to take over Banca Carige SpA, and wants to use public money to sweeten the deal. Administrators of the troubled bank were meeting officials at the finance ministry in Rome Monday morning as part of their efforts to stabilize the institution, according to two people with knowledge of the talks.
Finance Minister Giovanni Tria also met with the administrators during their visit, one of the two people said. His presence indicates heightened government interest in the case.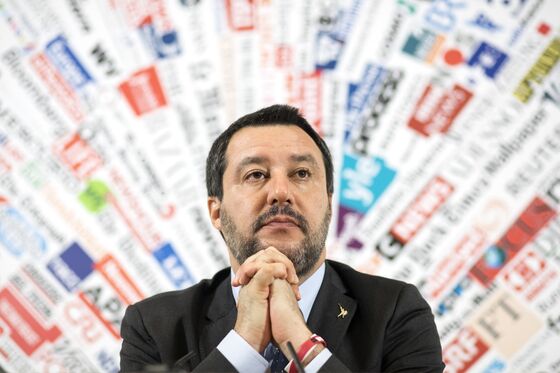 The European Central Bank placed Carige in temporary administration last week, its first use of such powers, after efforts to raise more private capital faltered.
"I don't want to see public money used for Carige to save friends of the establishment," Five Star Senator Elio Lannutti said in an interview. "The League is probably more in favor of state involvement, but there is a dialogue between us."
His party colleague Davide Zanichelli, who sits on the finance committee in the lower house, said the government should insist on "some form of nationalization" if public money is used in the rescue.
"The banking sector is crucial for the state," he said.
Both lawmakers said they were speaking in a personal capacity as Five Star has yet to adopt a public stance on Carige. The party has previously attacked Intesa Sanpaolo SpA's takeover of two Veneto-based banks in 2017, which required almost 5 billion euros ($5.7 billion) of public money as well as state guarantees to mitigate the risk of additional losses coming to light.
Carige is the latest focus of tensions between Salvini and Five Star leader Luigi Di Maio, whose improbable alliance is plagued by divisions on issues from immigration to welfare spending.
Both leaders portray themselves as defenders of small savers and taxpayers. But Salvini has to answer to his electoral base in the rich north of Italy while Di Maio is strongest in the depressed south and has denounced previous governments for stepping in to save what he sees as incompetent bankers. Five Star also slammed the previous center-left government's 2017 rescue of Banca Monte dei Paschi di Siena SpA.
Away from the politicking, special administrators in charge of Carige are set to meet the heads of Italy's deposit guarantee fund as early as Monday to discuss the bank's plight, people with knowledge of the matter said. They will review a December agreement that saw the privately owned fund buy 320 million euros of bonds from the troubled lender to meet ECB requirements.
The bank's executives are seeking to renegotiate the deal "amid a changed framework," Raffaele Lener, one of the three special administrators of Carige, said in an interview with la Repubblica Monday.
The Carige administrators discussed with Treasury officials Monday in Rome a possible sale of part of the lender's soured debt to the state-owned SGA SpA, which manages the bad assets of the two Veneto banks liquidated in 2017, a person familiar with the talks said.
The meetings were part of a road show among Italian banks and nothing more formal has taken place, one of the people said.