Finland Edges Closer to Coalition Government as Talks Start
Finland is edging closer to having a broad coalition government after Social Democrat Leader Antti Rinne invited the Center Party of outgoing Prime Minister Juha Sipila to the negotiations.
Rinne, who has been mandated to lead the talks after his party emerged on top in the April 14 election, also asked the Greens, the Left Alliance and the Swedish People's Party to join the talks in Helsinki.
It's a surprise twist in the negotiations, given that pundits had pointed to the Social Democrats and the center-right National Coalition as the most likely alliance. Forging a consensus with the Center Party is likely to be easier than with the National Coalition, Rinne told reporters. His main policies target inequality, education spending, the labor market and climate change.
"This combination will ensure Finland will be a better place to live for each and every Finn in four years' time," Rinne said.
The 56-year-old Rinne has promised to end four years of policies that included wage cuts and longer working hours. Sipila, whose center-right cabinet had resorted to those measures in an effort to drag the euro zone's northernmost economy out of a deep recession, suffered a fatal blow to his popularity earlier this year when he failed to pass a vital package of healthcare bills.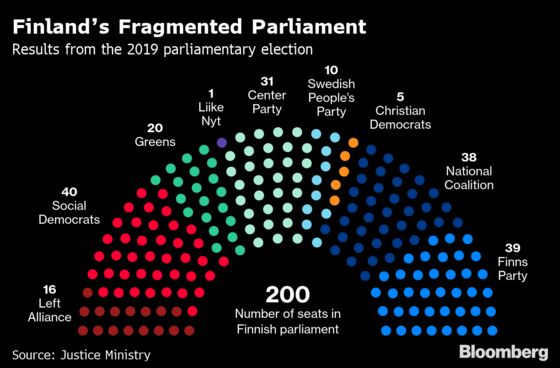 The Center Party comes to the talks with 10 red lines, setting the stage for hard bargaining. They include a new layer of government to administer health care services -- an unpopular proposal among other parties -- and increases in spending on pensions, poor families, vocational education and farmers, while ensuring balanced public finances by 2023. Each of the smaller parties also come with demands.
The nationalist Finns Party, which came second in the April 14 vote, had been seen as a long shot to become part of any coalition since its strident anti-immigrant rhetoric clashes with the values of the establishment parties.
Rinne said he is aiming to have a program agreed on May 24 and a cabinet appointed in early June.
Finland assumes the rotating presidency of the European Union on July 1.