Feinstein Faults Barr's 'Equivocation' on Releasing Mueller Report
(Bloomberg) -- Dianne Feinstein, the top Democrat on the Senate Judiciary Committee, said she's concerned by William Barr's "equivocation" on making public Robert Mueller's final report on his investigation into Russia's election interference.
"I am hopeful that that report will be made public, and my vote depends on that," Feinstein of California said Wednesday as the committee opened a second day of hearings on President Donald Trump's nomination of Barr as attorney general. "It's essential that Congress and the American people know what is in the Mueller report."
Feinstein opened the session by citing Barr's testimony Monday that Special Counsel Mueller's findings may stay private and he'd send his own summary to Congress.
"Under the current regulations, the special counsel report is confidential," Barr said then. "The report that goes public would be a report by the attorney general."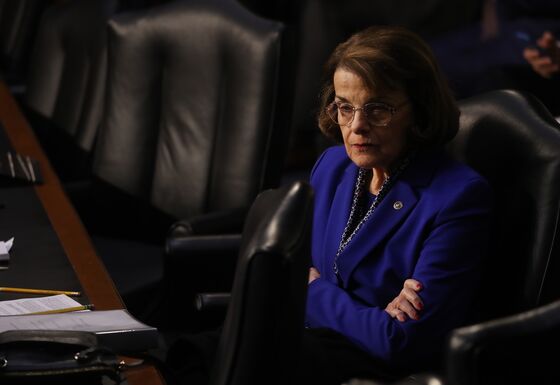 Wednesday's hearing was devoted to outside witnesses testifying for and against Barr's nomination. Among Barr's supporters was former Attorney General Michael Mukasey, who scoffed at concern that Trump might fire Mueller, saying "political risk" would prevent such a move.
"Everybody says that, well he could remove Mueller. Perhaps he could," Mukasey said. "But guess what, he hasn't done it yet. And there's good reason he hasn't done it yet, because the earth would open up and swallow him. We all know that."
Mukasey also vouched for Barr's experience and integrity.
"He has done literally everything you could possibly do," Mukasey said of Barr, who served as attorney general under President George H.W. Bush in the 1990s. He said Barr had pushed back on a White House looking for legal justification for a line-item veto, showing his independence.
By contrast, NAACP President and Chief Executive Officer Derrick Johnson said that Barr had in the past indicated that blacks and whites are treated fairly by the justice system, a position he called "disqualifying."
Johnson said Barr's record of support for harsher prison sentences was "abysmal," and he questioned whether Barr would improve the Justice Department's enforcement of the Voting Rights Act.