Merkel Rallies to Turn Out Conservative Voters: Election Update
(Bloomberg) -- Germany's main candidates fanned out on to mobilize voters the second-to-last day of campaigning before Sunday's election to determine who will succeed Angela Merkel as chancellor.
Polls suggest Merkel's center-right CDU/CSU bloc and Armin Laschet have narrowed the gap to the center-left Social Democrats led by Olaf Scholz, leaving the outcome too close to call. 
"It is a close race," Forsa pollster Peter Matuschek said in a Bloomberg Television interview. "It will have to be a three-party coalition as what it looks like now."
Germany's Next Leader Faces Five Big Problems Left by Merkel
Germany's Next Government Will Want to Help EU Punch Its Weight
Merkel Bloc Narrows Gap With SPD in Final Poll for ZDF
German Greens Keeping Options Open After Vote, Top Official Says
What Germany's Left Gets Right, and So Very Wrong: Andreas Kluth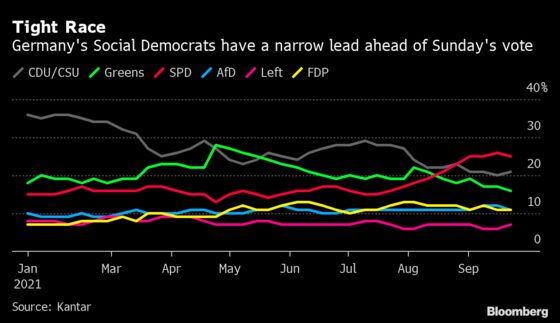 Kornblum Sees Strife If SPD Wins (7:30 p.m.) 
A Social Democrat-led coalition in Germany would nudge government policy toward "one would recognize on the progressive side of the Democratic Party," former U.S. Ambassador to Germany John Kornblum said.
Yet if SPD candidate Olaf Scholz is elected chancellor, he'll find himself at odds with his party's rank and file, Kornblum said on Bloomberg Television. "He and his party are going to have to fight out what in fact they stand for, and that's going to be a very difficult process," he said. 
Laschet Says Rejecting Conservatives a Bad Bet (6:15 p.m.)
Appearing after Merkel and others at the Munich rally, Laschet warned that turning away from the CDU/CSU alliance was a risky move for Germans. 
"If we get this wrong now, we can gamble away everything that has been achieved in the past 16 years," Laschet said. 
Green Candidate Focuses on Child Poverty (5:24 p.m.)
Annalena Baerbock, the Green candidate for chancellor, took her rivals to task for not doing more to help the underprivileged and made an impassioned plea for more backing on Sunday "so that we can finally pull children out of poverty."
At an outdoor rally in Dusseldorf, she told hundreds of cheering supporters that her party stands for a Germany where all people are valued and where anti-Semitism and other forms of hate are not tolerated.
"We are going to renew Germany together," Baerbock said as she closed out her campaign with her co-party leader Robert Habeck at her side.
Merkel in Conservative Get-Out-the-Vote Push (5:15 p.m.)
Chancellor Angela Merkel used her penultimate campaign stop for a turn-out-the-vote message to conservatives, telling a rally in Munich they need to unite and consider the election's economic policy choices. 
Her appeal follows criticism by Bavaria's Christian Social Union of the campaign run by Armin Laschet, the Christian Democrat who is the two parties' joint candidate for chancellor. 
"We should turn out, forget all of the things we might not have liked and simply tell ourselves that this is about Germany," Merkel, 67, told the crowd in the Bavarian capital. "For Germany to remain stable, Armin Laschet needs to be chancellor." 
"There's been a lot of talk during this campaign about redistribution, but very little about how to create economic value," she said.
Turning out the vote for the CSU, which is on the ballot only in Bavaria, could be critical. In the last national election in 2017, the party's share of the vote in its home state fell by more than 10 percentage points to about 39%. 
Scholz, Laschet Almost Neck-and-Neck: FAZ (4:22 p.m.)
The SPD's Scholz and the CDU/CSU's Laschet are essentially tied in a head-to-head matchup, according to the latest Allensbach poll. 
The survey for the Frankfurter Allgemeine Zeitung was the latest to show the race narrowing a touch heading toward Election Day -- and whip up the urgency of parties' Get Out the Vote efforts. 
The Social Democrats lost one point to 26% among people surveyed Sept. 16-23. Merkel's conservative bloc held steady at 25%.  
Separately, a Forsa poll showed the SPD steady at 25% with the CDU/CSU up a point at 22%.   
SPD Says It's No Time for Complacency (3:37 p.m.) 
SPD's power elite gathered in central Cologne for Scholz's final campaign rally, where speeches were set up by a classic-rock cover band and a flag-waving crowd of hundreds, many drinking the local brew, Koelsch.
The party's general secretary, Lars Klingbeil, urged supporters not to take anything for granted as polls showed the party's recent lead narrowing a touch. 
"This will be a close race, but we're ahead," he said. With the effort the campaign has put forward so far, "we'll have a Chancellor Olaf Scholz in this country," Klingbeil said. 
Climate demonstrators, who filled the city center as part of nationwide protests, could be heard at the edges of the event. 
Campaigning's for the Birds (12:58 p.m.) 
Chancellor Merkel visited a bird park in northern Germany on Thursday, and shots of her feeding a group of rainbow lorikeets -- a species of parrot native to Australia -- went viral on social media.
In one photo, a beaming Merkel has one of the birds on her head while others feed from small bowls she's holding. In another, she appears to be grimacing with pain as a bird digs its claws into her hand.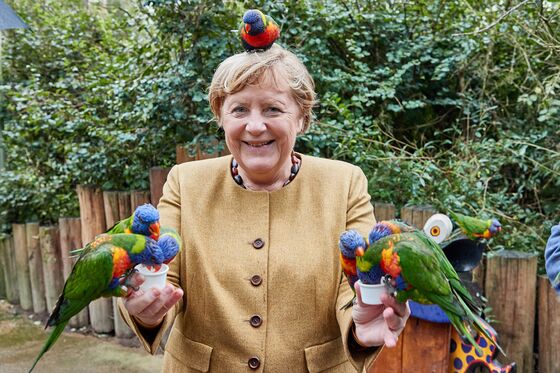 Merkel may think the brilliantly-colored birds are something of a lucky charm; she had a similar close encounter with the lorikeets at the Marlow Bird Park in 2012.  
Thunberg Attends Climate Rally in Berlin (12:34 p.m.) 
Greta Thunberg is attending a demonstration in Berlin as part of a global climate strike organized by the "Fridays for Future" movement that the Swedish teen activist helped inspire.   
Police in the capital expect around 20,000 people to march through the government quarter in the city center, while some 430 separate events are planned across Germany. 
Green Party chancellor candidate Annalena Baerbock attended the climate protest in Cologne hours before SPD front-runner Scholz was due to hold his final campaign rally there.  
Companies Fret About Possible Left-Wing Alliance (12:10 p.m.) 
A coalition government of three left-leaning parties is the biggest concern for German businesses, Ifo President Clemens Fuest told Bloomberg Television. 
Such an alliance may create uncertainty over foreign policy, raise the tax burden, and lead to more interventionist policies in areas like climate change, Fuest said.
Earlier, the Munich-based Ifo Institute's business climate indicator for September slid to a five-month low amid a "bottleneck recession" for industry. 
The Ifo gauge slipped to 98.8 from 99.6 in August, deeper than economists' expectations. An index measuring expectations for the next six months also fell, as did one assessing current conditions. -- Alexander Weber 
Ipsos Poll Confirms Race Is Tightening (10:40 a.m.)
A voter poll Friday confirmed the recent trend showing the race is tightening. Support for the SPD declined by one percentage point to 26% and the CDU/CSU gained a point to 22%.
The Greens dropped two points to 16% in third place, while the FDP climbed two points to 12%. The Left and the far-right AfD were steady at 7% and 11%, respectively.
SPD-Greens Talks 'Would Go Quickly' (8:40 a.m.)
Robert Habeck, co-leader of the Greens, said coalition talks with the SPD would conclude "very quickly," allowing the swift formation of a government in the unlikely event they managed to win a majority without needing the backing of another party.
"The SPD of course is closer to us, although we're not talking about two sides of the same coin, and they have also often been putting on the brakes when it comes to climate protection," Habeck said on ZDF television's breakfast show.
Laschet Highlights Focus on Growth (8:15 a.m.)
Laschet said his conservative alliance's focus on boosting the economy means it's best placed to address two of the main concerns among voters: social justice and climate change.
"We have the major task after the pandemic to get back to economic growth," he told ZDF. "When we're economically powerful again we'll have a lot of tax income and can tackle all the big tasks."
Scholz Attacks Laschet's Tax Plans (7:40 a.m.)
Conservative proposals to trim some of the tax burden on companies and high earners are not financially viable after Germany was forced to lift borrowing to deal with the pandemic, Scholz told ZDF.
"We have done a great deal to get through this crisis, including taking on 400 billion in debt by the end of next year," Scholz said. He was non-committal on potential coalition partners and also brushed off questions about his role in the Wirecard and Cum-Ex scandals.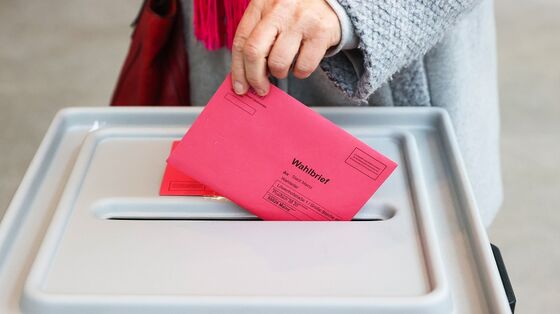 FDP Leader Rules Out Leftwards Shift (7:10 a.m.)
Christian Lindner, the leader of the business-friendly Free Democrats, said the party is ready to join a coalition government but would not accept a "shift to the left" in Germany that included tax hikes and a watering down of constitutional borrowing restrictions.
It would be easier to agree a coalition with the CDU/CSU and Greens than with the SPD and Greens, Lindner, who has his eye on the job of finance minister, told ZDF. "We must get back to growth-oriented policies," he added.