FBI's Strzok Subpoenaed by House GOP for Public Hearing July 10
(Bloomberg) -- FBI agent Peter Strzok, a central target of allegations by President Donald Trump and his allies of investigative bias and misconduct, has been subpoenaed to testify publicly on July 10 before two House committees.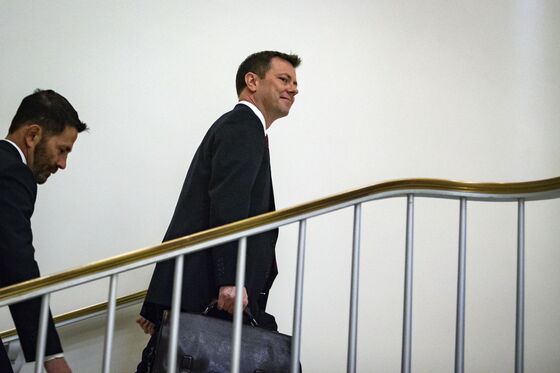 The subpoena issued Tuesday by Judiciary Committee Chairman Bob Goodlatte of Virginia comes a week after Strzok was interviewed behind closed doors by that committee and members and staff of the Oversight and Government Reform panel.
The lawyer for Strzok, whose anti-Trump text exchanges in 2016 fed Republican allegations of bias in the FBI, responded Tuesday by reasserting that Republicans have selectively leaked and distorted the agent's answers from last week's interview.
Aitan Goelman, who wrote last week that his client wouldn't appear voluntarily for a July 10 public hearing, added in a statement Tuesday: "Pete wants the American people to hear his testimony for themselves, instead of having his words leaked, twisted and mischaracterized by members of Congress."
"The only question is when and before what committee, and those details are not yet settled," Goelman said, without further explanation.
Trump has criticized Strzok on Twitter as "the leader of the Rigged Witch Hunt for a long period of time." Strzok served briefly on the Russia probe led by Special Counsel Robert Mueller but was removed after his text messages were discovered.