FBI Report Sets Off Renewed Kavanaugh Push
President Donald Trump and his Republican allies are pushing for rapid confirmation of Brett Kavanaugh to the Supreme Court after the delivery today of the findings from a supplemental FBI investigation into allegations of sexual assault.
The nomination faces a make-or-break Senate test vote tomorrow. Presidential spokesman Raj Shah called the FBI's report "the last addition to the most comprehensive review of a Supreme Court nominee in history,'' saying the White House is ``fully confident the Senate will vote to confirm'' Kavanaugh, who denies the sexual misconduct allegations.
A tentative plan for viewing the FBI's findings is that a single copy will be available in a secure room for senators to read from this morning, at one-hour intervals alternating between Republicans and Democrats.
The Democrats have already voiced concerns about the scope and veracity of the renewed background check.
Now Kavanaugh's fate will hinge primarily on a handful of undecided senators who – for the next couple days, at least – will be the most powerful people in Washington.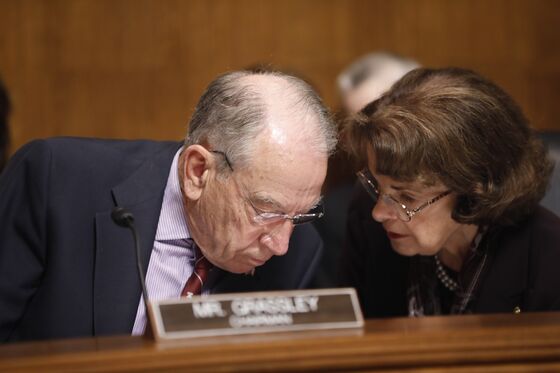 China hack | When Amazon.com Inc. began evaluating a startup called Elemental Technologies in 2015 for a major expansion of its video streaming service, investigators found a tiny microchip that wasn't part of its servers' original design. The discovery sent a shudder through the intelligence community as Elemental's servers could be found in Defense Department data centers, the CIA's drone operations, and on warships. U.S. investigators say the chips were inserted by Chinese spies at factories run by manufacturing subcontractors, Jordan Robertson and Michael Riley report.

Trade and geopolitics | The U.S. trade war with China continues to seep into broader ties ahead of November's midterm elections: Meetings between military officials have been canceled and there's been a pickup in naval encounters in the disputed South China Sea. Now CNN reports the Pacific Fleet is drafting plans for a show of force in the Taiwan Strait and South China Sea, while Vice President Mike Pence in a speech today will accuse China of meddling in the midterms with propaganda, spies and tariffs.

Leaving Macron | French President Emmanuel Macron insists there's no political crisis after losing his second top minister in three months. Interior Minister Gerard Collomb, the first big politician to join Macron's nascent movement in early 2017, is returning to his hometown, Lyon, to run for mayor. Environment Minister Nicolas Hulot quit in August over policy disagreements. Macron says the government remains hard at work. Collomb had criticized Macron in an interview in September, saying his lack of  "humility" explained a slide in the president's ratings.

Political scandal | The wife of former Malaysian premier Najib Razak – Rosmah Mansor, known for her lavish spending habits and penchant for designer handbags – pleaded not guilty to money-laundering and tax evasion charges involving $1.7 million. It's the latest chapter in the former first family's stunning downfall since the election in May. Najib was in a separate court today facing money-laundering, abuse of power and criminal breach of trust charges.

Absolute power | Vietnam's Communist Party chief is poised to become the country's most influential leader since the late revolutionary founder Ho Chi Minh. If his nomination to also become president is approved as expected later this month, Nguyen Phu Trong will oversee the police and military forces, mirroring the role held by Chinese President Xi Jinping. In March, China's parliament voted to repeal presidential term limits, allowing Xi to keep power indefinitely.

Intense scrutiny | Democrats are ready to harness a powerful set of subpoena powers established by Republicans to dig into the activities of Trump, his family and his administration if they win control of the House in the midterms, Billy House reports. Early moves are expected to target Trump's tax returns; additional witnesses in the Russia probe; the administration's hurricane responses, and spending and travel practices of agency heads.
And finally...Dogged by rumors of a leadership challenge and with Brexit talks in stalemate, U.K. Prime Minister Theresa May was staring into the abyss at her party's annual conference. Now? A boogie on stage to her favorite ABBA song – Dancing Queen – and an assured speech to the party faithful has bought her some time. How long depends on her ability to extract a deal from the European Union.