FBI Director Says Kavanaugh Probe Followed 'Usual Process'
(Bloomberg) -- The FBI investigation of sexual assault allegations against Supreme Court Justice Brett Kavanaugh was limited and followed "the usual process," bureau Director Christopher Wray told a Senate committee Wednesday.
"As is standard, the investigation was very specific in scope, limited in scope and that is the usual process," Wray told members of the Senate Homeland Security Committee.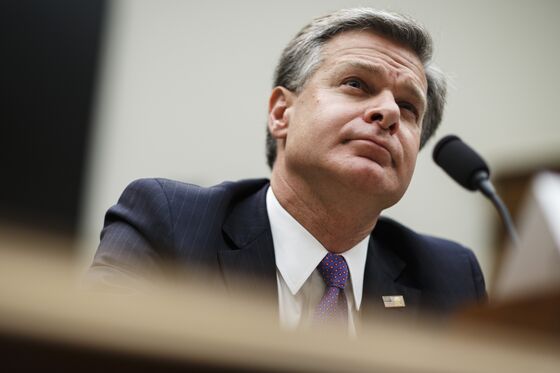 He declined to say if the FBI investigated whether Kavanaugh lied to Congress during a Sept. 27 hearing on Christine Blasey Ford's allegation that he sexually assaulted her while they were in high school. Senate Republicans asked President Donald Trump to order the investigation after the hearing, where Democrats said Kavanaugh was dishonest about his school-age drinking habits.
Wray said Wednesday the direction for the probe came from the White House, not the Senate. He said there was "lots of communication" between the FBI's security division and the White House office of security.
Republicans said the FBI found no corroboration for the allegations against Kavanaugh by Ford and another woman, a conclusion the Democrats disputed. Kavanaugh was confirmed and took his seat on the nation's highest court Tuesday.