FBI Agents Raid Home of Atlantic City Mayor in Office 11 Months
(Bloomberg) -- Federal Bureau of Investigation agents in Atlantic City, New Jersey, removed property during a five-hour search at the home of Mayor Frank Gilliam, who was elected to help turn around the junk-rated casino-resort town that's under state financial oversight.
Gilliam, a 48-year-old Democrat who took office in January, has had a tumultuous turn at City Hall. He and Councilman Jeffree Fauntleroy were due in municipal court on Dec. 11 for brawling outside a Golden Nugget casino nightclub in November. In April, a judge dismissed a criminal complaint, brought by the city Democratic Committee, alleging that Gilliam had mishandled a $10,000 donation.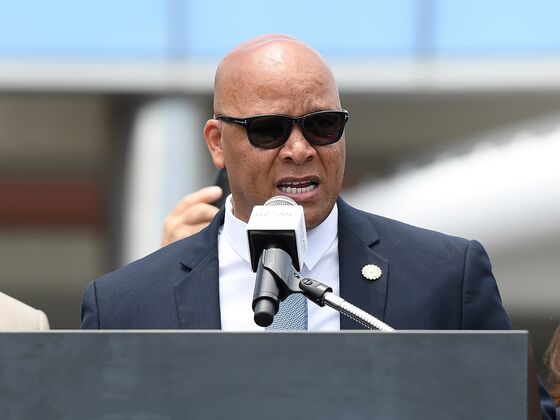 Special Agent Jessica Weisman said a team of FBI and Internal Revenue Service investigators arrived at Gilliam's Ohio Avenue home shortly before 8 a.m. Monday and left about five hours later. She declined to say what investigators were seeking, but said they had a search warrant and "we were there in an official capacity." Video posted to social media showed agents leaving the house with boxes; Weisman declined to disclose their contents.
Gilliam didn't arrive at his City Hall office on Monday, according to Christina Bevilacqua, his deputy chief of staff. She wasn't certain whether Gilliam had hired an attorney. Weisman wouldn't say whether Gilliam was home while agents were present.
Atlantic City, with a monopoly on New Jersey casino gambling, was cut to junk by Moody's Investors Service in 2014 and S&P Global Ratings in 2015, after its betting parlors appeal their tax assessments in the face of growing competition from other states. Though a 64-page report issued in September showed that the city starting to turn around, Democratic Governor Phil Murphy said he will continue the state oversight begun in 2016 by his Republican predecessor, Chris Christie.