Anthony Fauci Calls Sen. Roger Marshall a 'Moron' in Hot Mic Moment
(Bloomberg) -- It's a classic Washington slip-up: getting caught on a hot mic.
Anthony Fauci, President Joe Biden's top pandemic medical adviser, is garnering attention for comments captured following a heated exchange Tuesday with Senator Roger Marshall, one of the many Republicans to level personal attacks against him.
Fauci can be heard calling Marshall a "moron" after the Kansas Republican demanded Fauci disclose more information about his finances. Fauci said his financial disclosures are already available to the public and can be accessed through Freedom of Information Act requests.  
"What a moron -- Jesus Christ," Fauci can be heard saying after the exchange, during a Senate Health, Education, Labor and Pensions Committee hearing on the federal response to the omicron Covid-19 variant.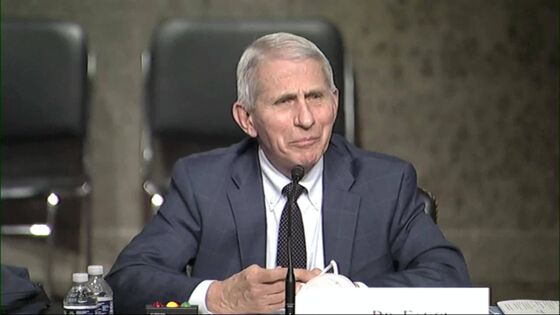 Fauci also clashed with Senator Rand Paul, accusing the Kentucky Republican of distorting his mission and fueling death threats against him and his family.
"It kindles the crazies out there, and I have threats upon my life, harassment of my family and my children with obscene phone calls because people are lying about me," he said.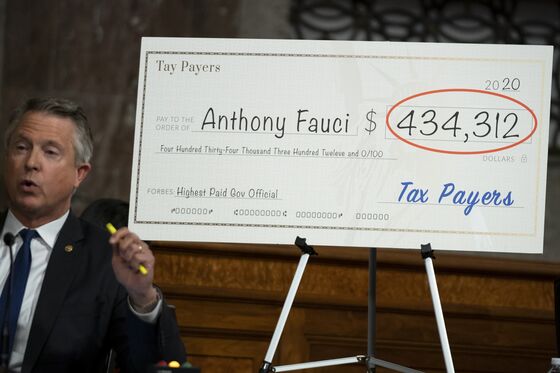 Marshall repeatedly demanded that Fauci submit a financial disclosure form to Congress, citing a Forbes story he said put Fauci's salary at $434,000. 
"I don't understand why you're asking me that question," Fauci responded. "My financial disclosure is public knowledge and has been so for the last 37 years or so."
"All you have to do it ask for it -- you're so misinformed it's extraordinary," he added. 
Fauci is such a lightning rod for GOP voters frustrated with perceived government overreach in the Covid-19 response that he's become a popular device in Republican fund-raising campaigns. 
"Fauci for prison," Florida Governor Ron DeSantis egged on donors in a campaign fund-raising email  last month. "Help me protect freedom right here in Florida by chipping in."
"Fauci is hysterical," a Paul fundraising email blared last month. "Chip in if you agree!"
Mentions of Fauci have prompted some of the biggest boo lines at former President Donald Trump's recent events, along with references to Vice President Kamala Harris. 
Fauci has become a polarizing figure even though he was appointed to his post as chief of the National Institute of Allergy and Infectious Diseases during Republican Ronald Reagan's administration and has now worked for four Republican presidents and four Democrats. 
Only 19 percent of Republicans in a Dec. 1-16 Gallup poll of American adults approved of the job Fauci was doing.