Brexit Bulletin: The Farage Factor
Days to Brexit deadline: 80
Today in Brexit: Nigel Farage has made his move, pledging to hold Boris Johnson's feet to the fire.
What's happening? The landscape of the upcoming U.K. general election is coming more clearly into view. Nigel Farage's decision not to run Brexit Party candidates in seats held by Conservatives means that what was a wildly confusing four-party scramble is now effectively a 3.5-party dash, with Farage's team half-in, half-out. 
"I have got no great love for the Conservative Party," Farage said at a rally in Hartlepool, in the northeast of England, as he announced his plan. He repeats that phrase in the Telegraph this morning. He talks of giving Prime Minister Boris Johnson "half a chance" to deliver Brexit "by keeping him honest and holding him to account."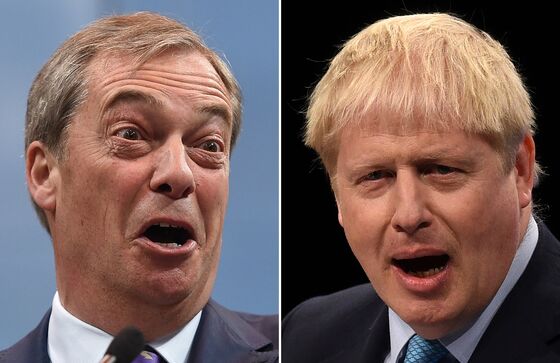 Farage's loyalty to Boris Johnson's Brexit deal hardly runs deep. Farage made his move only after the prime minister pledged on Sunday night not to seek an extension of the post-Brexit transition period past Dec. 31, 2020. He told BBC Newsnight that his aim is to win some seats in the upcoming election and hold Johnson to his promise when the Westminster drama resumes in the new year. 
Farage makes no secret of his preference for what he calls a "clean break" Brexit — otherwise known as a no-deal exit — and his excoriating views on the details of Johnson's deal remain easy to find on the Brexit Party website. With experts skeptical that a wide-ranging EU-U.K. trade deal can be negotiated and finalized before the end of next year, pressuring Johnson in this way remains perhaps Farage's best hope of the Brexit he craves.
What does it mean for the election? There are two takes on this. Andrew Hawkins, chairman of polling company ComRes, told Bloomberg that Farage's move means the Labour vote is going to be split in key Tory-Labour marginal seats in the north of England, opening a path for the Tories to win. YouGov's Chris Curtis says the opposite, arguing that the Brexit Party damages the Tories most by staying in the race in seats the Conservatives need to win. 
Current polls don't reflect Farage's move. In any case, Farage's switch away from a 600-seat strategy will only increase the difficulty of modeling this election, and the shape of Brexit, until the actual votes are counted.
On the Markets | The pound was quick to rally on news of Farage's decision, rising the most in three weeks as traders judged that the Brexit Party's move will boost the chances of a Tory majority on Dec. 12. Sterling traded at $1.2863 early on Thursday.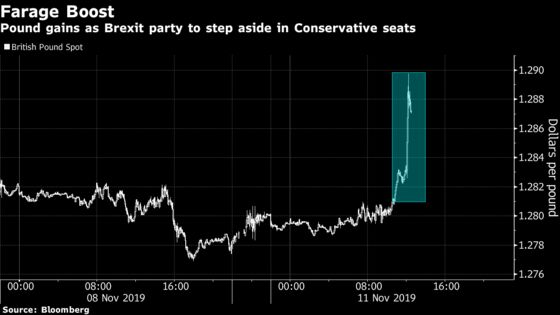 Recession Avoided | The Farage boost to sterling was just the latest evidence that the pound is more affected by politics than data these days; it barely reacted to anemic growth figures earlier on Monday. Investment is in a slump and the economy has lost almost all momentum, official figures showed, though quarterly growth of 0.3% nonetheless kept the U.K. out of a recession. The next snapshot of the U.K. economy comes with unemployment figures at 9:30 a.m. today. Economists expect the jobless rate to stay at 3.9%.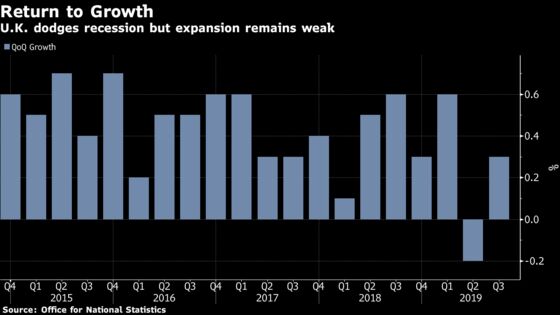 After Carney | There's "no need" to extend Mark Carney's tenure as governor of the Bank of England, Chancellor of the Exchequer Sajid Javid told Bloomberg. Javid said the government would act "very quickly" to announce a new name if the Conservatives win the election. He also promised to reveal details of the Conservative's fiscal plans at a post-election budget "within weeks" of polling day. 
Follow the Money | A Conservative majority on Dec. 12 is now the most likely election result, according to betting markets.
Boles' Choice | Can't decide who to vote for in the upcoming election? Former Tory MP Nick Boles might not be the election analyst you need, in that case. He didn't mince his words in Monday's Evening Standard, lamenting an "appalling choice" between "a compulsive liar" and a "blinkered Pharisee."
Coming Up | Labour's Jeremy Corbyn on the campaign trail in Blackpool, northwest England at 11 a.m. Liberal Democrat leader Jo Swinson travels to Wales for a campaign rally at 6 p.m.
Want to keep up with Brexit?