Fannie-Freddie Watchdog Gets More Cautious on Firms' Release
(Bloomberg) -- Fannie Mae and Freddie Mac's regulator appears to have learned that it's best to be careful when making comments about freeing the mortgage giants from federal control.
Joseph Otting, the acting director of the Federal Housing Finance Agency, made clear Thursday that it's the Trump administration's preference to work with Congress, after he faced a backlash last month for privately hinting the FHFA and Treasury Department might circumvent lawmakers.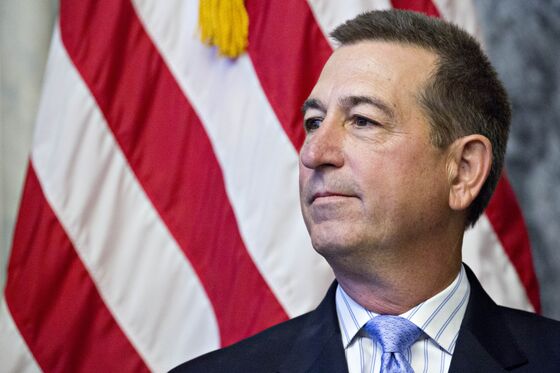 Otting's January comments that caused a stir, made in a meeting with FHFA staff, were secretly recorded and leaked to the media. The remarks triggered a surge in Fannie and Freddie's share prices, scrutiny from congressional Democrats and a pledge from the White House that it would work with lawmakers on any plan to end the decade-long conservatorships of the companies.
"Every time I see someone recording me I get a little nervous these days," Otting joked Thursday at a housing conference in Washington.
He also took a much more measured tone in discussing the Trump administration's plans for Fannie and Freddie.
"We are spending an enormous amount of time thinking through the options," Otting said, reiterating that housing-finance policy remains a priority for Treasury Secretary Steven Mnuchin. "Our preference would always be a legislative fix."
He declined to comment on any specifics other than to say that ensuring the mortgage giants have enough capital and liquidity to operate in a safe and sound manner is "the most important thing."
In response to questions from reporters, Otting said it's "out of my control" as to when the White House releases its plan for reforming housing. He added that it would be "slightly ahead of the curve" for him to comment on any specific administrative actions FHFA or Treasury is currently considering.
"You need to be slightly patient," Otting said.
Otting also leads the Office of the Comptroller of the Currency, which is one of the nation's top bank regulators. He will step down from the FHFA once the Senate confirms a permanent replacement.
President Donald Trump has picked libertarian economist Mark Calabria, who now works for Vice President Mike Pence, to lead the housing regulator. The Senate Banking Committee has scheduled a nomination hearing for Calabria on Feb. 14.