Fannie-Freddie Regulator Now Welcomes Lawmaker Input on Revamp
(Bloomberg) -- In an apparent about face, Fannie Mae and Freddie Mac's regulator told congressional Democrats Wednesday that he welcomes their input on coming up with a plan to free the mortgage giants from federal control.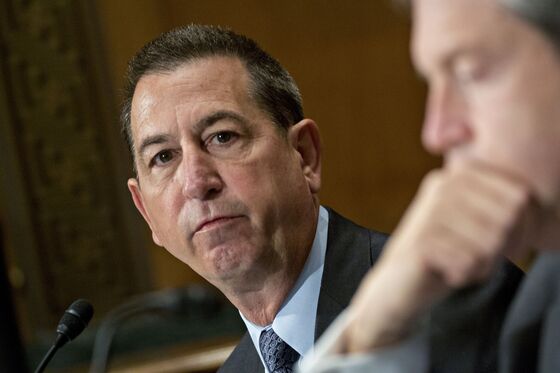 "As we begin the journey of evaluating the enterprises and developing a framework for ending conservatorship, I would welcome your insight and perspective," Joseph Otting, the acting director of the Federal Housing Finance Agency. wrote in a letter to House Financial Services Committee Chairwoman Maxine Waters and Senator Sherrod Brown, the top Democrat on the Senate Banking Committee.
Waters and Brown are among lawmakers who raised concerns that the Trump administration was considering going it alone to pursue sweeping changes to housing-finance policy. Last week, the Democrats demanded answers from Otting after he said at a private meeting earlier this month that the Treasury Department and White House would soon release a proposal, and that Trump-appointed officials were willing to circumvent Congress to get something done.
The backlash to Otting's comments was swift, with the White House issuing a Tuesday statement that said the administration would work with Congress on a plan for ending the government's decade-long control of Fannie and Freddie.
Speculation that Treasury and the FHFA might unilaterally let Fannie and Freddie build up capital and then release the companies had prompted the companies' shares to surge this month. Hedge funds and other investors were hopeful that any plan would allow shareholders to get their hands on Fannie and Freddie's profits, which now go to the Treasury.
Otting's Wednesday letter is the latest sign that a revamp that frees Fannie and Freddie probably won't happen anytime soon.
The Trump administration's push to end the conservatorships will likely start with the White House calling on federal agencies to put forth ideas for a legislative and regulatory overhaul of the housing-finance giants, Bloomberg reported Tuesday, citing people familiar with the matter.
The White House may outline a broad set of recommendations, such as increasing competition for the companies and protecting taxpayers from losses, and then request that Treasury and the Department of Housing and Urban Development propose plans for implementing them, said the people.