Facing Probes, Bolsonaro Maneuvers to Keep Congress Support
(Bloomberg) -- Brazil's Jair Bolsonaro tapped a centrist lawmaker outside his inner circle to oversee his cabinet, the president's latest maneuver to maintain congressional support as probes into the government's handling of the pandemic erode his popularity.
Senator Ciro Nogueira, a leader of the powerful bloc of ideologically fluid lawmakers know as the "centrao," will become Bolsonaro's chief of staff with the mission to maintain good relations with the legislature, the far-right president announced on Thursday.
"This improves dialogue with congress, and we will be able proceed as normal, leading the nation's destiny," he said on a live stream broadcast from the presidential palace in Brasilia.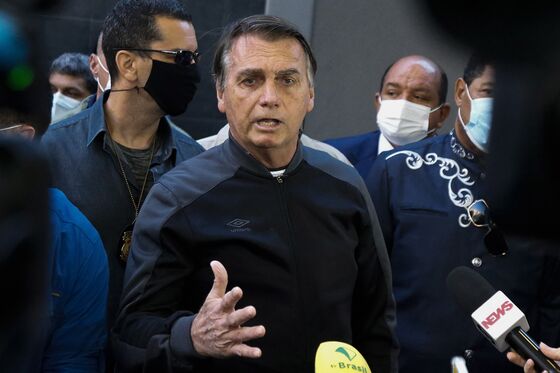 Under fire for his government's erratic response to pandemic, Bolsonaro has deepened his alliance with the centrao in recent months. The coalition, comprised of some 200 lawmakers across 10 political parties, has backed every Brazilian president over past decades in exchange for influence and jobs in the administration. More recently, it has been crucial to blocking over 100 calls for Bolsonaro's impeachment.
The arrival of Nogueira, who had previously supported the left-wing governments of Luiz Inacio Lula da Silva and Dilma Rousseff, reduced the influence of old-time allies of Bolsonaro: the military and Economy Minister Paulo Guedes. General Luiz Eduardo Ramos, the previous chief of staff, was demoted to a more administrative cabinet role, while Guedes saw attributions of his ministry chopped to make space for another ally of the president.
Ramos has been criticized by centrist lawmakers for keeping tight control over budget negotiations with congress, according to four people familiar with the matter who requested anonymity because the discussion isn't public. His demotion, the people added, was a pragmatic decision by Bolsonaro, who still has no party to push his agenda through congress, even with presidential elections little more than a year away.
"He has become dependent" of centrist parties, said Carlos Melo, a political science professor at Insper University in Sao Paulo. "The weaker he becomes, the worse his poll numbers, the more people that come out into the streets, the more power he will have to cede."
Allies had been warning Bolsonaro for months about the need to bring a centrist senator to his cabinet to help approve reforms and improve the relationship with the committee that investigates his handling of the pandemic.
Brazil Politics: Bolsonaro's Allies Ask for More Cabinet Changes
Senators are examining government mistakes that have contributed to nearly 550,000 Brazilians dying from Covid-19. Earlier this month, the inquiry found indications of kickbacks in vaccine purchases benefiting health ministry officials and a government-allied lawmaker.
A Supreme Court justice authorized a federal police investigation to determine whether Bolsonaro had knowledge of wrongdoing. He says he wasn't aware, but the allegations have pushed his popularity down to its lowest point in its presidency.
The invitation to Nogueira came after the lawmaker complained the government was helping a political opponent in his home state of Piaui, while at the same time asking centrao for help in congress. Nogueira threatened to leave a meeting with with party leaders and Guedes last week, when he learned that the Treasury had backed a loan to the state, currently led by left-wing Governor Wellington Dias, a person familiar with the matter said, asking not to be named because the event was private.
Part of Nogueira's job as chief of staff will be to ease tensions amid a heated debate about Brazil's electronic voting system ahead of the 2022 election. Bolsonaro is pushing a bill that demands the nation's 470,000 voting machines generate a paper record of each ballot. Otherwise, he says, hidden actors could manipulate the results.
On Thursday, the president returned to the topic -- a source of much friction with the Supreme Court and congress in the last few weeks -- saying he will show proof there was fraud in Brazil's 2014 and 2018 elections. He has made similar claims several times before, but has never substantiated his accusations.
The president also denied a report that Defense Minister Walter Braga Netto has been pressuring congress to approve the paper-ballot bill. It is currently under discussion in the lower house, but is unlikely to pass.
Newspaper O Estado de S. Paulo said on Thursday that Braga Netto threatened to cancel the 2022 elections if paper ballots aren't adopted. The threats, which Braga Netto also denied making, sparked reactions from Supreme Court justices, congress and party leaders, some of whom are planning to join forces to quickly kill the bill and settle the matter.