F-35 Jet Delivery Was Paused for Fix to Avert Fuel Explosions
(Bloomberg) -- Lockheed Martin Corp. halted deliveries of its F-35 jets to the U.S. Air Force for much of this month because of a flaw in a system used to prevent explosions if fuel tanks are hit.
Flaws in tubing used to circulate inert gas into fuel tanks to prevent explosions were found in 14 of 24 Air Force models of the fighter jet inspected, the Pentagon's F-35 program office said in a previously undisclosed June 5 memo to congressional staff that highlighted the halt in deliveries.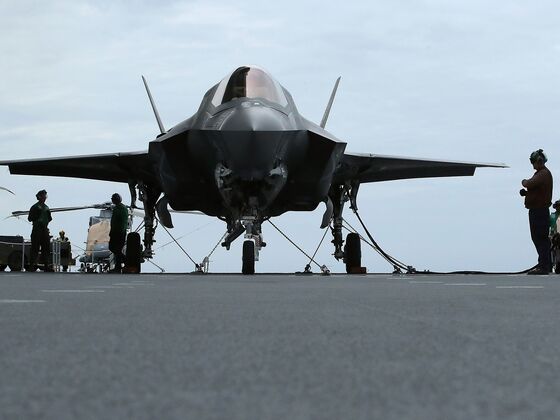 But Lockheed said Wednesday that it resumed deliveries, with two of the fighter jets provided on Tuesday. It recommended that flights be restricted "within 25 miles of lightning or thunderstorms" as a safety precaution while the contractor works with the Defense Department's F-35 program office on a corrective plan.
Brandi Schiff, a Pentagon spokeswoman, said in an email, that the program office was "conducting a detailed Root Cause and Corrective Action analysis in coordination with our industry partners." The office "has provided advisory guidance to F-35A operators as a precaution," until it's completed, she added.
According to the memo, "inspection results to date have been worse than anticipated" and the "root is suspected to be" parts wearing out too fast instead of flawed installation. One tube had only been installed for 173 hours, the memo added.
The program office is developing a plan to withhold some payments to Lockheed "tied to the delivery of the key analysis and engineering improvements necessary to resolve this deficiency," according to the memo.
The Air Force plans to buy 1,763 F-35s, the most in the program that also provides models for the Marine Corps and Navy. The $398 billion program is the Pentagon's most expensive.