Eyeing Life After Netanyahu, Israel's Likud Picks Election Slate
(Bloomberg) -- Israel's ruling party votes Tuesday in what could be a dress rehearsal for the eventual fight to succeed legally embattled Prime Minister Benjamin Netanyahu.
Likud's 120,000 members will choose the ticket for April 9 parliamentary elections, a primary vote that tests politicians' strength within the party. While Netanyahu enters the contest as Likud's unchallenged leader and will top its elections slate, his political survival could be thrown into question if corruption allegations in several investigations ripen into an indictment against him.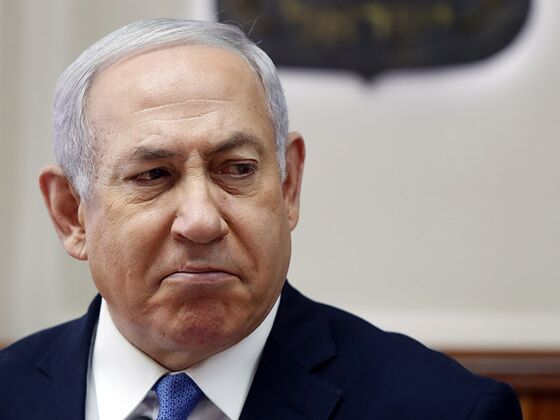 Other Likud politicians with strong bases of support in the party include former cabinet minister Gideon Saar, Transportation Minister Israel Katz, Public Security Minister Gilad Erdan and Knesset Speaker Yuli Edelstein. It's also possible, however, that other prominent political figures who left the party would want to lead Likud in a post-Netanyahu era, including former Defense Minister Avigdor Liberman and New Right chiefs Naftali Bennett and Ayelet Shaked.
On Monday, Netanyahu revived allegations that Saar is using his legal woes to maneuver within the party to replace him. Saar accused Netanyahu of recycling a "false plot" in an attempt to hurt him in the primaries.
Saar's performance will be a litmus test of Netanyahu's strength within the party, said Reuven Hazan, a Hebrew University political scientist.
If Saar wins one of the ticket's top 10 spots, "it means there are enough people who support Likud, support Netanyahu, but are uncomfortable that Netanyahu has overstayed his welcome, that he's turned the party into his own personal machine, that his legal problems could hurt the party's chances," Hazan said.
"If he comes in the top five, then that means that Netanyahu has a serious challenge," he added. "Likud members want to be in power, and if it means jettisoning Netanyahu after the elections should he be indicted, that is a price they're willing to pay."
Attorney General Avihai Mandelblit is expected to announce this month whether he intends to bring charges against Netanyahu, as police have recommended.
So far, allegations of bribery and fraud haven't dented the prime minister's popularity as he seeks a fifth term, despite what polls suggest will be a strong challenge from a new party headed by former military chief Benny Gantz.
The Likud would hold on to 30 of parliament's 120 seats in the April 9 vote, according to a survey conducted by the Dialog company and published Tuesday in Haaretz, while Gantz's Israel Resilience party would win 22 seats. Together with traditional allies, Netanyahu would be able to put together a coalition of at least 64 lawmakers, the survey showed.
The poll of 804 people had a margin of error of 3.5 percentage points.