Eyeing 2020, Gillibrand Rejects Earlier Immigration Stance
(Bloomberg) -- Senator Kirsten Gillibrand said her prior hawkish immigration stances, including opposition to giving "amnesty to illegal aliens," were lacking in empathy.
The newly announced Democratic presidential hopeful from New York, who's moved left since her time representing a more conservative upstate House district, made three television appearances criticizing President Donald Trump's positions on immigration and pushing back on the notion that she's been politically expedient on the issue.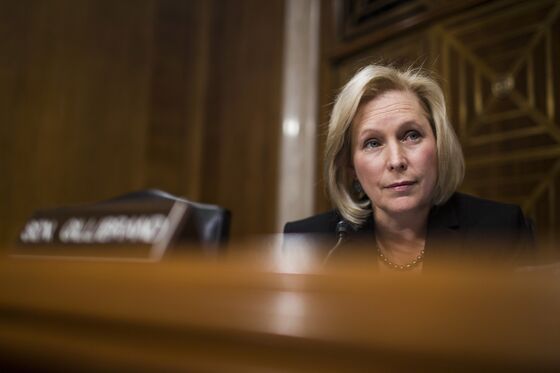 "They certainly weren't empathetic, and they weren't kind, and I did not think about suffering in other people's lives," Gillibrand said on CNN's "State of the Union" when asked if her previous positions had been "racist," as she's described Trump's.
In the House, Gillibrand previously voted to increase funding for Immigration and Customs Enforcement, which she recently said she wants to abolish. She also once supported border fencing, making English the official language of the U.S., and making it easier to deport undocumented immigrants -- among other positions that she's largely repudiated since being appointed to the Senate in 2009.
That move, in which she filled the seat being vacated by then-incoming Secretary of State Hillary Clinton, brought her into contact with a wider range of constituents who changed her thinking, she said on Sunday.
"I realized that things I had said were wrong," she said, citing a trip to Brooklyn. "I was not caring about others."
Gillbrand added that Trump's immigration positions, including his insistence on funding for a wall on the U.S. border with Mexico that's led to a disagreement with Democrats and a month-long partial partial government shutdown, were "creating fear and division and a darkness across this country."
Gillibrand joined her fellow Democrats in slamming Trump's proposed compromise, announced on Saturday. The deal would extend protections for three years for some of the so-called Dreamers -- young people brought to the country illegally as children -- and make other concessions in exchange for his desired $5.7 billion toward a border wall. She called for a permanent fix and a pathway to citizenship for all Dreamers.
"What President Trump is doing is destroying the moral fabric of what this country stands for," she said.
Gillibrand announced her intention to run for president during a Jan. 15 appearance on CBS's "The Late Show With Stephen Colbert."
Later in the week, she traveled to Iowa to meet voters in the state where Democrats will begin the process of selecting their 2020 nominee. There, she faced questions about her transformation from a conservative House Democrat to her current incarnation as a progressive liberal, according to local media.
Speaking at a local coffee shop in Sioux City, Gillibrand also called for Iowa Republican Representative Steve King to resign in the wake of remarks about white supremacy.
The 52-year-old is one of more than a dozen Democrats who've announced their candidacies or are considering challenging Trump. Many expect it to be the largest field of Democratic hopefuls in decades, keen to face an incumbent president with approval ratings consistently in the low 40-percent range.
In the Senate, Gillibrand has positioned herself as a leader of the #MeToo movement. She was the first senator to call on her then-colleague Senator Al Franken, a Minnesota Democrat, to resign after multiple women accused him of unwanted touching and other inappropriate behavior. Some high-profile Democratic donors criticized the move, calling it a rush to judgment.
Gillibrand has also pushed to overhaul how the military, and Congress itself, handle complaints of sexual assault.
Though she renounced taking money from corporations' political action committees in 2018, Gillibrand has proven to be a prodigious fundraiser.
According to the Center for Responsive Politics, her two largest contributors in 2018 were individuals from two law firms where she had previously worked: Davis Polk & Wardwell and Boies Schiller Flexner. The non-partisan center also reported that Gillibrand raised more than $1.84 million from the securities and investment industry in the 2018 election cycle.
Gillibrand reported having $10.5 million in cash left over from her 2018 senatorial campaign that she can use for her presidential run, an amount second only to Senator Elizabeth Warren of Massachusetts among potential candidates.