Exhausted EU Leaders Send Mixed Signals to West Balkan Hopefuls
(Bloomberg) -- Fatigued by their longest-ever summit that laid bare the bloc's struggles in decision-making, European Union leaders sent mixed signals to western Balkan nations seeking membership.
The EU's largest eastern member Poland voiced hope at an annual gathering with the mostly ex-Yugoslav countries that all of them may join the bloc soon. Still, momentum for integration had already been undercut when French President Emmanuel Macron said Monday that there would be no further expansion before "deep" EU reforms are agreed.
German Chancellor Angela Merkel tried to bridge both sides, telling reporters Friday at the end of the three-day meeting that the French position isn't in opposition to accession talks with the Balkan nations, while agreeing with Macron that the integration process can be improved.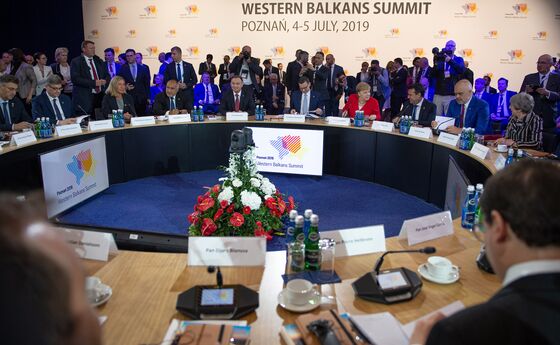 "I don't see any contradiction," Merkel told a news conference in Poznan, a Polish city about halfway between Warsaw and Berlin. "We didn't make as much progress as we wanted but France has said in recent days and weeks that it plans to strengthen its engagement in the Western Balkans and I find that good."
Albania, Serbia, Kosovo, North Macedonia, Montenegro and Bosnia-Herzegovina have long expressed frustration at the slow progress toward accession, especially as many of them started difficult overhauls needed to join the world's largest free trade bloc.
"EU membership was a catalyst for Polish reforms and we want that perspective to be available for the Western Balkans," Polish President Andrzej Duda said. "Not everybody shares this view and and I'm saddened by decisions" made by EU leaders delaying accession, he said.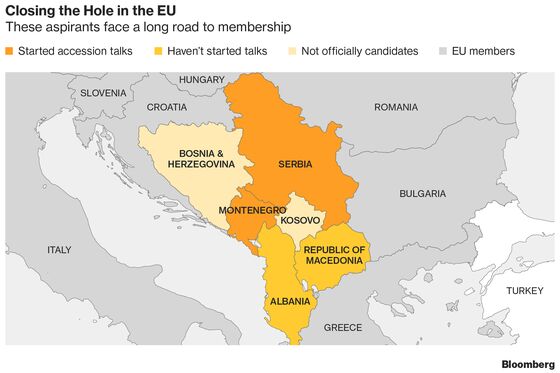 The political tide has turned against rapid membership for any countries. The EU executive's recommendation in May to quickly start negotiations with Albania and North Macedonia was shot down by member states.
Failure to keep membership promises would hurt the EU's credibility and could push the region into the hands of Russia or China, with "strings attached," Enlargement Commissioner Johannes Hahn warned this week.
North Macediona's Prime Minister Zoran Zaev said the failure to start entry talks within moths could weaken support for pro-EU forces including his government, while boosting nationalist and populist ones.
Serbian Foreign Minister Ivica Dacic expressed frustration on Thursday, publicly questioning the "purpose of such meetings, especially after certain European leaders say that have no intention to discuss enlargement." His boss, Premier Ana Brnabic, spoke of the positive aspects of integration on Friday, calling for the removal of regional trade barriers as part of preparations to join the world's biggest trading bloc.
The nomination of Josep Borrell as the bloc's foreign-policy chief for the next five years may also signal additional obstacles. The Spanish foreign minister is a fierce opponent of separatist movements and his country doesn't recognize the independence of Kosovo, which unilaterally seceded from Serbia a decade ago and now seeks to get candidate status so it can start EU entry talks.
The volatile region has lagged behind its eastern European peers in EU integration and economic growth partly as a result of the wars that ravaged it following the breakup of Yugoslavia in the early 1990s.
"It would be impossible that 18 million Balkan citizens remain outside the European space," said Montenegro's Premier Dusko Markovic. "Today, it was clearly stated that the vision of enlargement is alive and that we should continue meeting our obligations" to become EU members.