Ex-Virginia Governor McAuliffe Rules Out 2020 Presidential Bid
(Bloomberg) -- Former Virginia Governor Terry McAuliffe said he won't join the multi-candidate field of Democrats seeking 2020 presidential nomination, opting instead to help his party make electoral gains in the commonwealth.
McAuliffe, 62, said he concluded that he would have the most impact aiding his party in Virginia, where the top three Democratic officials have been caught up in controversies over wearing blackface in the past and, in one case, accusations of sexual assault.
"I thought long and hard,'' McAuliffe said in an interview on CNN Wednesday night. "Beginning tomorrow my focus is going to be to win the House and Senate in Virginia."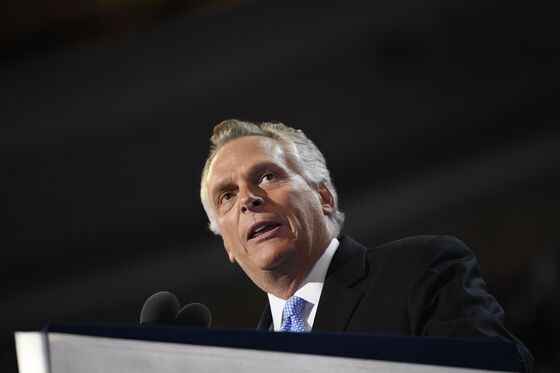 The former governor declined to say who he thought would be the best Democratic candidate to take on President Donald Trump, who he said "is not going to be easy to beat'' in 2020. He described the slew of Democratic hopefuls as "good, healthy process" that will help the party pick the best nominee for the 2020 general election.
McAuliffe had been dropping hints for weeks about possibly making a bid for the nomination. Earlier this month he told the audience at a building trades union conference in Washington he was close to making a decision and suggested he was eager to challenge Trump.
"You'd pay money to watch that debate," he told the crowd, which also heard from several of the 18 candidates already in the race.
He previously said he would run an "optimistic" and "realistic" campaign. He has criticized other Democratic candidates for their "dishonest populism" -- making promises, such as universal free college and a jobs guarantee, that they'll never be able to keep.
A long-time ally of Bill and Hillary Clinton, a former chairman of the Democratic National Committee and a millionaire entrepreneur, McAuliffe would have competed for ideologically middle-of-the-road voters with Vice President Joe Biden, if he gets into the race as expected.
His decision removes one obstacle for Biden in bidding for moderate voters. It will also free up some key Democratic donors whose loyalty and concerns about Biden's vulnerabilities might have put them in McAuliffe's camp.