Ex-Trudeau Aide Says SNC Talks With Minister Were Above Board
(Bloomberg) -- Justin Trudeau's government never directed Canada's attorney general to intervene in a Quebec construction company's legal case but did suggest she seek an outside opinion on the matter, a former top aide said.
In televised testimony Wednesday in Ottawa, Gerald Butts laid out his version of events that have put the Canadian prime minister in political jeopardy. His comments come a week after former justice minister Jody Wilson-Raybould alleged Trudeau, Butts and others pressured her to help SNC-Lavalin Group Inc. settle corruption charges out of court.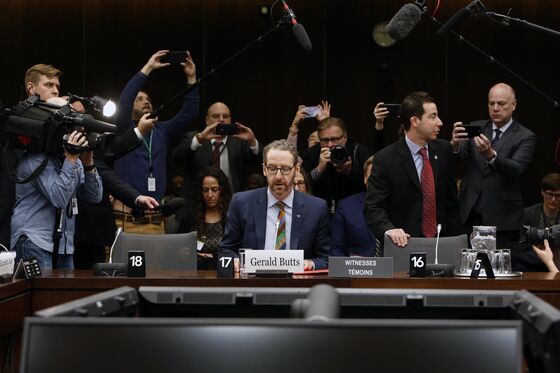 Trudeau's former principal secretary, in the government's first fulsome response, said the prime minister's marching orders to staff were to bear in mind potential job losses at the Montreal-based firm, and to work with the public service to consider all legal options. Wilson-Raybould was merely asked to get outside legal advice, he said, stressing she was never directed to take any particular course of action.
"All we ever asked the attorney general to do was consider a second opinion," Butts told lawmakers on the House of Commons justice committee. "The prime minister believed that this is a real and significant public policy challenge that deserves a robust and thoughtful response."
Butts's remarks contradict Wilson-Raybould's version of events, though he avoided directly criticizing the former minister. He said she never made it clear to him she had already made a final decision on the issue and never complained about undue pressure. He said a cabinet shuffle in January soured the relationship between Wilson-Raybould and Trudeau, triggering the series of events that now threatens the prime minister's hopes for re-election this fall.
The incumbent Liberal Party sits at about 33 percent in national polls -- still competitive in Canada's multiparty system, but trailing the Conservative Party at 37 percent, according to a poll aggregator run by the Canadian Broadcasting Corp. It projects the Conservatives would win 15 more seats than the Liberals, but still fall short of a majority, were an election held today.
At issue was whether Wilson-Raybould would provide SNC-Lavalin with a so-called deferred prosecution agreement to end a criminal case based on years-old corruption charges related to work in Libya. Trudeau's government changed the law last year to allow for DPAs, and the company, which employs 9,000 people in Canada, would have been the first recipient. Its shares plunged the most in six years when it revealed in October that prosecutors ruled out a negotiated settlement.
Butts stressed the government was worried about the economic fallout from a prosecution and potential conviction. "We felt that outside advice was appropriate because of the extraordinary circumstances," he said. "We also made clear that if the attorney general accepted our proposal and took external advice, she was equally free to reject that advice."
He later added: "I am firmly convinced that nothing happened here beyond the normal operations of government."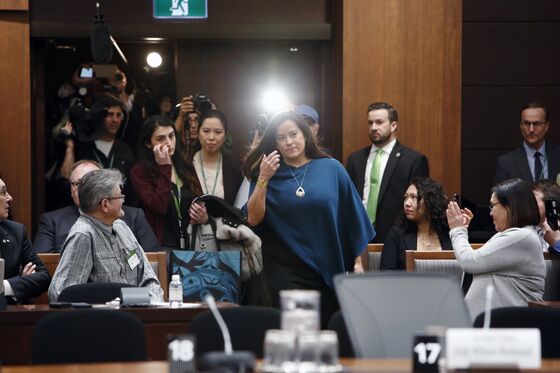 The former top prime ministerial aide detailed conversations with Wilson-Raybould and said the topic of SNC-Lavalin came up only rarely. She neither made her concerns plain to him early on, nor wrote to Trudeau saying her decision was final, he said.
"If anyone crossed a line, it is the responsibility of the minister to inform somebody about that. And I'm presenting myself as the most likely person that would have been informed, and I was not," Butts said.
Wilson-Raybould was shuffled to a different job in January. Butts said that decision had nothing to do with SNC-Lavalin, and that her objections around SNC only ramped up around that time.
He said he didn't know Wilson-Raybould believed her decision to have been final on Sept. 16, and only learned of that in her testimony last week. The company was notified by the country's independent prosecutor on Sept. 4 that it wouldn't get a deal. Butts bristled at Wilson-Raybould taking a decision so quickly on a new legal power.
"The attorney-general made the final decision after weighing all of the public interest matters involved in just twelve days," he told lawmakers. Butts also said he believes the power to issue a DPA continues until a verdict is reached, and that the attorney general "is free to take advice on the decision until that point, and is obligated to bring fresh eyes to new evidence."
Trudeau's former principal secretary and longtime friend also pulled back the curtain on the Jan. 14 cabinet shuffle. Butts said they needed to rearrange the team because another minister, Scott Brison, was quitting. The plan was to replace Brison with Jane Philpott as head of the Treasury Board, move Wilson-Raybould to indigenous services and hand the justice portfolio to a newcomer, David Lametti.
Butts said Philpott warned Trudeau personally on Jan. 6 that Wilson-Raybould could see that as a demotion and "might wonder if her move were connected to the 'DPA issue.'" Butts said that was the first time anyone linked SNC and the cabinet shuffle to him, and maintained the job changes had nothing to do with the company's plight.
Wilson-Raybould, however, rejected the indigenous services job. A former First Nations chief, she said she couldn't, in good conscience, carry out programs under the country's Indian Act that she has long opposed. Butts worried about the precedent.
"Cabinet invitations are not the product of shared decision-making," he said. "My advice was that the prime minister should not set the precedent that a cabinet minister could refuse a new position, and effectively remain in one position for the life of the government." Wilson-Raybould was instead made veterans affairs minister in the shuffle.
The SNC scandal broke out into the open Feb. 7, when the Globe and Mail newspaper reported -- citing anonymous sources -- that Wilson-Raybould felt pressured to intervene. She then quit cabinet and gave her version of events in explosive testimony last week.
Philpott resigned this week over Trudeau's handling of the matter. Butts left his job as principal secretary on Feb. 18, saying it was in the best interest of the government for him to step down.