Ex-Rebel Leader Soro to Run for President of Ivory Coast
(Bloomberg) -- Ivory Coast's youngest and most media-savvy opposition figure, Guillaume Soro, said he'll run in next year's presidential elections -- the first major politician to do so.
"There are some pro-Soro parties that have chosen me as their candidate," Soro, a former rebel leader who has also served as prime minister, said in a speech broadcast live on his Facebook page. "So I will be a candidate."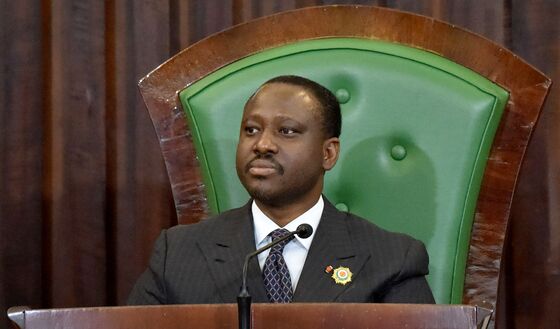 Soro, 47, launched a political movement earlier this year after falling out with President Alassane Ouattara and resigning as parliament speaker. Soro's rebel group controlled the north of the country for almost a decade until Ouattara assumed office in 2011. Several former rebel commanders now have key positions in the security forces.
Ouattara initially said he'd step down after two mandates but then floated the idea of seeking re-election, something he says is legally possible because of a constitutional change in 2016.
Soro has been touring Europe and meeting Ivorians in the diaspora in recent months to mobilize support, and spoken with 85-year-old opposition leader Henri Konan Bedie. While Soro served as leader of the New Forces political wing and never engaged in actual combat, he's asked several times for forgiveness for his role in the conflict, something that has set him apart from other politicians.
"I won't be happy if I don't make it past the first round" of the election, Soro said. "If I make it to the second round with the most votes I'll have the support of the other opposition parties. I'm still young. I have 30, 40 years of political life ahead of me."
Ouattara's ruling Rally of Houphetists for Democracy and Peace and Bedie's Democratic Party of Ivory Coast, the main opposition party, have yet to announce a candidate. Ouattara has previously said he will make the decision on his candidacy known in 2020.