Ex-President Mugabe Bats for Opposition in Zimbabwe Election
(Bloomberg) -- Former Zimbabwean President Robert Mugabe said he'll back the main opposition in Monday's elections, which come eight months after the military briefly seized control and the ruling Zimbabwe African National Union-Patriotic Front forced him to quit after 37 years in office.
"I cannot vote for Zanu-PF," the 94-year-old Mugabe said on Sunday at a press conference held beneath a pagoda overlooking a lake on the sprawling grounds of his mansion in Borrowdale, one of the wealthiest suburbs in Harare, the capital. "I must say very clearly, I can't vote for those who have tormented me, I can't."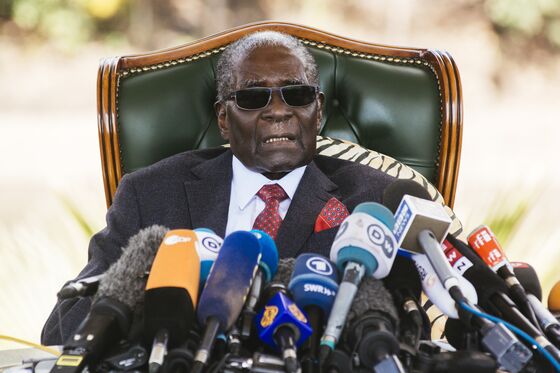 Mugabe was replaced by his one-time deputy and spy chief Emmerson Mnanagagwa, 75, one of 22 candidates in the presidential race. His only serious challenger is Nelson Chamisa, a 40-year-old lawyer who heads the Movement for Democratic Change. Mugabe said that while he'd never met Chamisa, the MDC represented the only realistic alternative to the ruling party which he helped found in 1963.
Mugabe's endorsement could work to the detriment of the opposition, which faced violent repression under his rule, according to Rashweat Mukundu, an analyst at the Zimbabwe Democracy Institute in Harare.
"Mugabe is detested by the support base of the MDC," Mukundu said by phone. "His endorsement of Chamisa is a typical indication of Mugabe's kind of politics, which has him at the center and nothing else. It may be a kiss of death for the MDC.'
Mugabe, who made made his last public appearance in November and spent much of the press conference slumped in his chair, described his removal from office as unlawful, unconstitutional and unnecessary, as he'd decided to step down as ruling party leader in December. He dismissed reports that he'd wanted his 52-year-old wife, Grace, to succeed him, as "utter nonsense" saying his preferred candidate was former defense minister Sydney Sekeramayi.
The former president also said there'd been talk that he'd received a $10 million pension, but he'd only been granted a fraction of that, along with two houses. Grace Mugabe, who sat under an umbrella on the sidelines of the press conference, said his pension amounted to $467,000 and asked: "Can you believe it?"
Mugabe complained that his former colleagues had shunned him and his family had been harassed, arrested and had their property seized. He defended his record in office, during which government-backed militants seized thousands of white-owned farms and the economy went into free-fall.
"Don't forget we were fighting against British colonial rule," Mugabe said. "They had settlers here. We had to remove the settlers. I insisted we had to get the land."
Chamisa said he accepted Mugabe's backing.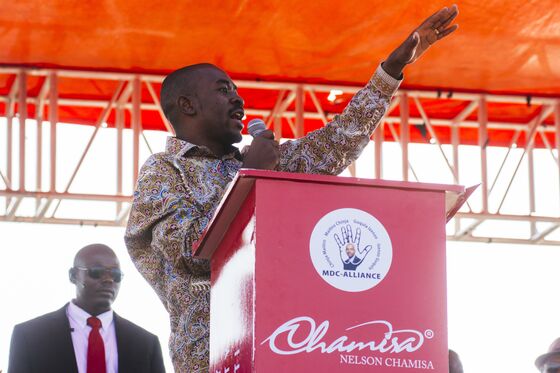 "I need every supporter," Chamisa told reporters in Harare on Sunday. "This is do or die, it doesn't matter if it's Mugabe. Every vote counts."
Mnanagagwa said it was clear Chamisa had struck a deal with Mugabe and couldn't be trusted to transform and rebuild the nation.
"The choice is very clear," the president said on his Facebook page. "You either vote for Mugabe under the guise of Chamisa, or you vote for a new Zimbabwe under my leadership and Zanu-PF."
Under Zimbabwe law, the election results must be announced by Aug. 4.
"Mugabe may be able to rally some of his supporters who have already defected from ZANU-PF," to vote for the opposition, said Robert Besseling, executive director of political risk advisory firm EXX Africa. "But I do not believe Mugabe still has the clout to make a significant impact on this election."