Ex-Leader Gbagbo Returns to Ivory Coast After ICC Acquittal
Former Ivory Coast President Laurent Gbagbo returned to the country on Thursday for the first time in 10 years, after being acquitted of charges of crimes against humanity at the International Criminal Court.
The Hague-based ICC in March upheld an earlier acquittal, paving the way for his return home, where he may still face jail time after being tried and sentenced in absentia for looting the local branch of the Central Bank of West African States.
Gbagbo, 76, and his former youth minister, Charles Ble Goude, were cleared in 2019 of allegations of committing crimes against humanity, but only conditionally released pending the outcome of the prosecutor's appeal.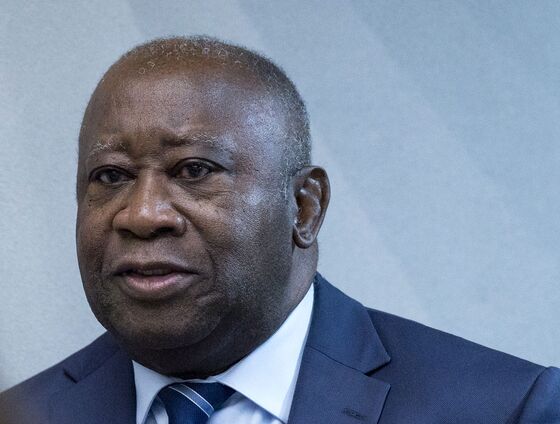 The ex-leader triggered a five-month conflict in the world's top cocoa producer when he refused to concede defeat to President Alassane Ouattara in 2010 elections. The ensuing civil war left more than 3,000 people dead or missing and led to a contraction in the West African nation's economy in 2011.
"Mr. Gbagbo's returning to his country, so for us it's the return of a normal citizen," government spokesman Amadou Coulibaly told reporters after the weekly cabinet meeting Wednesday, when asked whether someone from the executive will be welcoming him at the airport.
While his return will be a boost for the opposition and put pressure on Ouattara to consolidate the ruling party's influence, it's unlikely to pose a risk to national security in one of the continent's fastest growing economies, Washington DC-based Eurasia Group said in an emailed note.
Gbagbo's flight touched down at 4:15 p.m., with hundreds of people chanting "Gbagbo ayoka" or "Gbagbo welcome" in his native Bete. Earlier, police fired tear gas to disperse crowds who had tried to make their way into the presidential pavilion that had been made available for his arrival.
"It was important for him to be in the country as the reconciliation would not have been complete without him," said Jean-Louis Billon, a spokesman for the main opposition Democratic Party of Ivory Coast. "There's still some deep resentment in parts of different political groups, but we can overcome it".
Gbagbo is expected to meet party leader Henri Konan Bedie in the coming days.