Ex-French PM Tells Court His Wife's $1 Million Job Was Essential
(Bloomberg) -- Former French Prime Minister Francois Fillon insisted that his wife's lucrative work as his aide was "essential" when he was a member of Parliament, denying that it was a fake job used to inflate their income.

Fillon said Thursday that he will give "the truth" about her contributions and restore his family's honor during the couple's trial in Paris. They are accused of collecting more than 1 million euros ($1.1 million) for about 10 years of work even though Fillon's wife did none of the duties that can be expected of a parliamentary aide.

"My life, the life of my family, were scrutinized in the greatest detail," Fillon said, referring to press leaks as the investigation progressed. "I was already convicted three years ago by the media. The objective was to prevent me from running for president in normal circumstances."
The revelations in early 2017 derailed his campaign to become France's next president. Fillon was a clear favorite until then, well ahead of the governing Socialists' candidate and a relatively novice Emmanuel Macron, with far-right leader Marine Le Pen having a slim chance.

After his defeat, Fillon quit politics and within months was named senior partner at French money manager Tikehau Capital.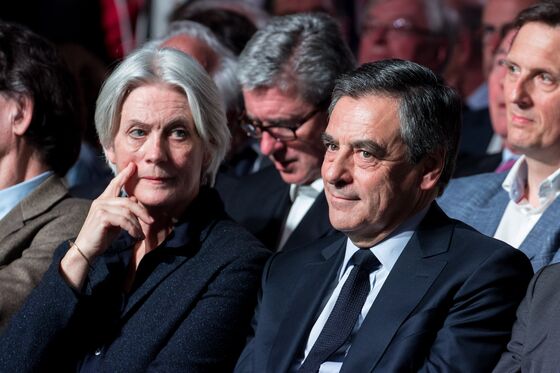 French investigators say Penelope Fillon never set foot in the National Assembly despite being paid as a full-time aide, first to her husband when he was in Parliament and then his replacement.
She had no timetable, no work computer, mobile phone or email address linked to the job in Parliament but her salary averaged $140,000 a year for a time.
While Fillon made a few, short preliminary remarks Thursday, his wife was the first to be questioned.

"I never had a say about the level of pay, it was my husband who handled that," she said during the hearing, which started this week and may end March 11.
She had a similar response when Bruno Nataf, a prosecutor at the Parquet National Financier, told the court that she was paid nine times the minimum monthly wage to write a report on the organization of her husband's secretariat in the 1980s.

Penelope Fillon said she didn't set the salary.
She said she was a go-between for her husband and the voters in his constituency, more than 200 kilometers (124 miles) from Paris.
She said she handled Fillon's mail, monitored press coverage and wrote memos to update her husband on local events ahead of speeches. Penelope Fillon says she had no reason to get an access badge to the National Assembly.
Fillon went further still.
"There's not one speech I made as part of my political career that Penelope didn't review."