Envoy's Complaint About Trump Triggers 'Intimidating' New Attack
(Bloomberg) -- The former U.S. envoy to Ukraine told the House impeachment inquiry that she felt intimidated by Donald Trump's attacks on her work, only to have the president launch a fresh broadside against her as she testified in a public hearing.
The career diplomat, Marie Yovanovitch, succinctly and passionately described her role advancing U.S. interests in some of the most dangerous countries in the world until a smear campaign led by Rudy Giuliani and other Republicans led to her being recalled. She received a standing ovation from the audience in the hearing room as she left on Friday, after about six hours of questioning.
"You were viewed as an obstacle that had to go, not just by Giuliani but by the president of the United States" as they pushed for politically motivated investigations, House Intelligence Chairman Adam Schiff said in closing. Even though Ukraine did not follow through with those investigations, Schiff said, "the fact that they failed in this solicitation of bribery doesn't make it any less bribery. It doesn't make it any less immoral and corrupt. It just means that it was unsuccessful."
Republicans in the hearing largely refrained from directly challenging Yovanovitch, focusing their ire on Schiff instead. The main attack on the former ambassador and her service came from Trump himself, via Twitter.
House Democrats seized on the moment to accuse the president of attempting to intimidate witnesses and suggesting it could underpin an article of impeachment. Schiff read the tweet aloud during the hearing and asked Yovanovitch what effect she thought it would have on other witnesses who are called to testify in the inquiry.
"It's very intimidating," Yovanovitch said.
The stakes are high for both parties in the public phase of the impeachment inquiry as they try to sway public opinion about Trump and his conduct in office. Democrats have called witnesses who can help build the narrative of a president using U.S. foreign policy in his own interests, while Republicans continue to attack the process they describe as politically motivated.
After Trump tweeted about the hearing he said he wouldn't watch, Representative Jim Himes, a member of the Intelligence Committee, said the president's tweet could form part of an charge of obstruction.
"Her boss sent a real-time signal about what he thought about her testimony," Himes, a Connecticut Democrat, said. "That's about as clear an example of witness intimidation as there is."
Republicans rejected that view. GOP Representative Lee Zeldin, a member of the Foreign Affairs Committee, said it couldn't be witness intimation since Yovanovitch wasn't aware of the tweet until informed by Schiff. He also highlighted the last sentence of the tweet in which Trump said he has an absolute right to select his ambassadors, an argument echoed by Republicans during the hearing.
White House press secretary Stephanie Grisham said in a statement that the tweet "was not witness intimidation, it was simply the president's opinion, which he is entitled to. This is not a trial, it is a partisan political process - or to put it more accurately, a totally illegitimate, charade stacked against the president."
Yovanovitch was the sole witness at the second public impeachment hearing before the Intelligence panel. She testified that a "smear campaign" against her by Trump and Giuliani undermined American foreign policy and gave "shady interests the world over" a lesson in how to get rid of officials who don't give them what they want.
She said her ouster by Trump along with the efforts by Giuliani and his business associates had a "chilling effect" within the State Department with the effect of aiding corrupt actors while damaging the U.S.
"Such conduct undermines the U.S., exposes our friends, and widens the playing field for autocrats like President Putin," Yovanovitch said in her opening statement, referring to the Russian president. "Our leadership depends on the power of our example and the consistency of our purpose. Both have now been opened to question."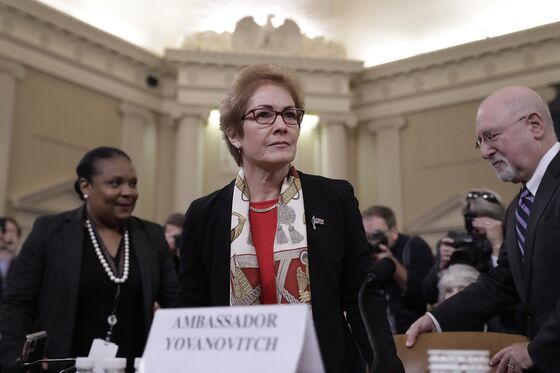 Yovanovitch wasn't directly involved in some of the actions by Trump that are central to the Democrats' inquiry, since she had already been removed from her post before the president's July 25 phone conversation with Ukrainian President Volodymyr Zelenskiy.
During that call, Trump described her to Zelenskiy as "bad news" and that "she's going to go through some things."
Yovanovitch testified that when she learned of his statements later she found them concerning.
Democratic committee members used part of their questioning to ask whether allegations against her -- made by Giuliani, his associates, the president and a Republican congressman -- were true.
She said it was untrue "that I told unidentified embassy employees or Ukrainian officials that President Trump's orders should be ignored because 'he was going to be impeached' -- or for any other reason."
She also said the Obama administration "did not ask me to help the Clinton campaign or harm the Trump campaign, nor would I have taken any such steps if they had."
Giuliani "should have known those claims were suspect, coming as they reportedly did from individuals with questionable motives and with reason to believe that their political and financial ambitions would be stymied by our anti-corruption policy in Ukraine," she said.
"I had no other agenda other than to pursue our stated foreign policy goals," Yovanovitch said.
As Yovanovitch's testimony concluded, members of the Intelligence Committee headed to another session -- this one behind closed doors -- where a staff member from the U.S. embassy in Kyiv was set to respond to questions about the bombshell revelation from the first public hearing: that Trump on July 26 phone call asked envoy Gordon Sondland about the status of "investigations" sought from Ukraine.
David Holmes, the U.S. political counselor in Ukraine, was with Sondland in Kyiv when the call took place. His testimony could be the most direct evidence yet that the president was personally involved in pressuring Ukraine to investigate former Vice President Joe Biden and his son, Hunter Biden.
More impeachment coverage
Scrolling Bloomberg coverage of impeachment inquiry
Click here for video coverage.
The challenge for Democrats is to establish that Trump abused his power by withholding nearly $400 million in U.S. security assistance as leverage to pressure Zelenskiy for a commitment to conduct those probes. The money was later provided to Ukraine, without that public commitment.
Republicans argued that Yovanovitch left the Ukraine post before any of the events central to the impeachment inquiry took place.
"I'm not exactly sure what the ambassador is doing here today," Representative Devin Nunes, the ranking Republican on the Intelligence panel, said after establishing Yovanovitch doesn't have firsthand knowledge about the delay in aid or Trump's July 25th phone call with Zelenskiy.
At the start of the hearing, Nunes read in full a memo recounting an earlier call from Trump to Zelenskiy, on April 21, congratulating him on his election victory. The rough transcript, released by the White House minutes before the hearing began, shows an exchange of pleasantries and invitations to visit each other's countries.
"When you're settled in and ready, I'd like to invite you to the White House," Trump told Zelenskiy.
Democrats accuse Trump of withholding the White House visit, which would be an important signal of support for Ukraine as it faces continued threats from Russia, as part of a pressure campaign on Zelenskiy's government, along with military aid.
House Speaker Nancy Pelosi on Thursday accused Trump of engaging in bribery, an offense identified specifically in the Constitution as grounds for impeachment, by withholding U.S. military aid while prodding Ukraine's new government to launch politically motivated investigations.
"The bribe is to grant or withhold military assistance in return for a public statement of a fake investigation into the elections. That's bribery," Pelosi said.