Everything You Need to Know About Brazil's Election: Balance of Power Special
(Bloomberg) -- The brand of right-wing nationalist politics that's scored notable victories in the U.S., Europe and Asia is poised to sweep across Latin America's giant: Brazil.
The clear front-runner in today's presidential vote is Jair Bolsonaro, the former army captain with a penchant for slurs against minorities and women and attacks on the trustworthiness of democracy itself.
His victory would put the leaders of Brazil and U.S. on the same page for the first time in decades. Bolsonaro and President Donald Trump share similar views on issues ranging from gun rights, trade, immigration, and China. 
Bolsonaro's opponent, Fernando Haddad, a leftist former Sao Paulo mayor, has faced a difficult task of wooing an electorate fed up with years of rule by his party and the graft scandals under presidents Luiz Inacio Lula da Silva and Dilma Rousseff that shifted the political landscape from left to right in just about three years.
Both candidates called for calm and respect after a campaign that saw Bolsonaro stabbed at a rally and supporters of each candidate branded rivals as fascists or communists.
Despite his sometimes harsh rhetoric, to many Bolsonaro inspires hope: that he can revive a sickly economy – setting up a potential fire sale of natural resources – and break decisively with decades of crime and corruption.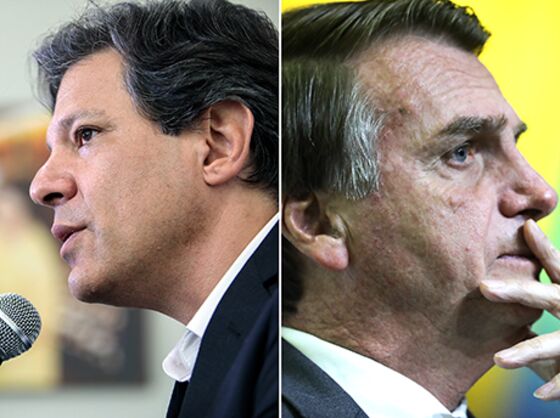 Congress 2.0 | In the biggest shake-up of Congress since about two decades of military rule ended in 1985, voters this month kicked out a large number of their lawmakers. In the new lower house, one out of every five will have no previous experience in Congress, while in the Senate almost a quarter of the new intake has never held office in the federal legislature. Overall, Brazil's notoriously fragmented legislature has become more socially conservative. Women made some small gains.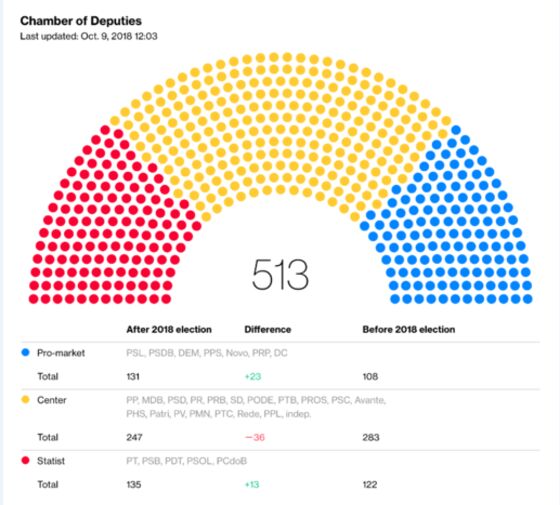 Wounded left | The election looks set to hit the left-wing Workers' Party with another blow after the impeachment of Rousseff in 2016 and the arrest of Lula on graft charges this year. Unable to shake off its connection with corruption scandals, it lost seats in both houses of Congress – but remains the largest party in the lower house, with the potential to block the incoming government's key proposals, particularly a controversial pension reform overhaul.
"Bullsorally" | Anticipating a Bolsonaro win, the mood in Sao Paulo's financial center on the eve of the election was downright giddy, fueled by a stock-buying frenzy that pushed the Ibovespa index up 20 percent since mid-June. While foreign investors have been alarmed by some of the candidate's intolerant remarks, local ones see him espousing policies they like: selling inefficient state companies, cutting spending, and deregulation.
The face of Brazil's presidency? | With up to five former generals on Bolsonaro's list of potential cabinet picks, his government would give the security forces their biggest public role in decades. In Congress, he'd rely on the support of the so-called "BBB caucus" –  the "Beef, Bullets and Bible" bloc of farmers, cops and evangelicals that saw a boost in their numbers earlier this month. With security one of voters main concerns, a major part of Bolsonaro's success so far has come from his hard-line stance on law and order.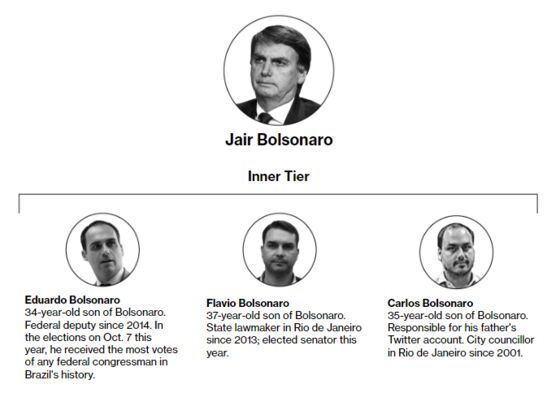 Gun rights | A key advocate of looser guns laws, Bolsonaro could notch up his first win in Congress before even taking office on Jan. 1. A bill granting Brazilians the right to own and bear firearms for legitimate self-defense is ready to be voted on in the lower house, and the former army captain's congressional allies have already indicated they'll fast-track the proposed measure as soon as he's elected.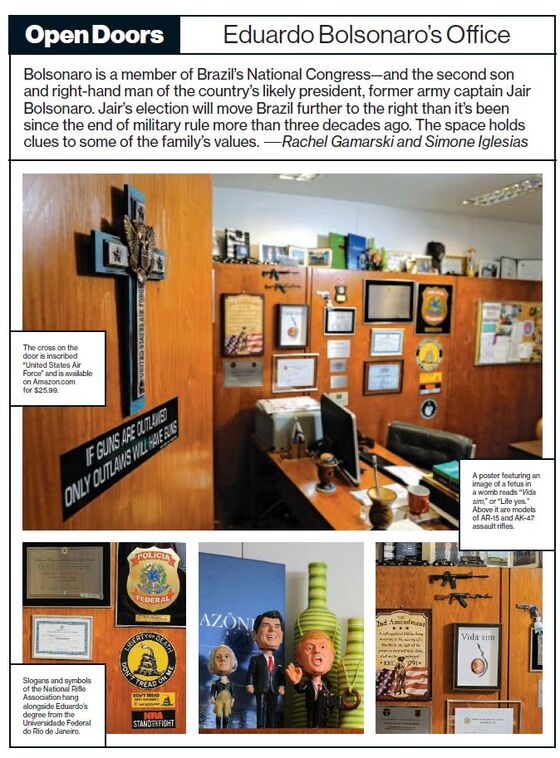 And finally … Bolsonaro, baptized in the River Jordan by a Brazilian Assembly of God pastor in 2016, has passionate support from evangelicals – who make up 22 percent of the electorate –  and many others who herald him as the country's savior. His unusual middle name – Messias, or Messiah in Portuguese – was chosen by his mother after a difficult pregnancy, and the candidate often jokes about the awesome responsibility of such a name. "My name is Messiah, but I can't perform miracles," he once said.