Even Italy's Most Loyal Bond Buyers Are Getting Cold Feet Now
(Bloomberg) -- Italy could once rely on a solid base of domestic buyers for its bonds, but even they seem to be turning their backs now.
Fresh evidence of the damage done to market confidence came at a sale of inflation-linked securities, historically popular with Italian retail investors, which has so far seen less than a fifth of the demand at a similar offering in May. The poor response comes ahead of a European Commission report due Wednesday that could say Italy's 2019 budget is in breach of European Union fiscal rules, raising the threat of fines on the country.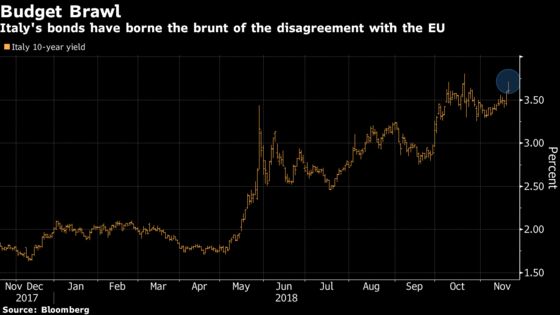 The struggling sale is the latest chapter in a phase of unremitting uncertainty that Italian markets have faced since the euroskeptic Five Star-League coalition ascended to power in May. The political turbulence around the government formation fueled a bond meltdown toward end-May, and volatility in the so-called BTPs has remained relatively high since then amid fears that Rome's confrontational stance could fuel the risk of Italy leaving the EU.
Domestic investors' demand is dwindling at a time when the European Central Bank is set to discontinue fresh asset purchases under its quantitative-easing program, which has been a major support for regional markets, by year-end. Even during the height of the euro-area debt crisis, Italy's government could count on domestic banks to snap up bonds while demand from abroad dwindled.
'Different Picture'
"Back in the pre-QE world, the retail support was quite strong even with BTPs under pressure, so this is a different picture," said Steve Ryder, a money manager at Aviva Investors, who has had an underweight position on Italian securities. "The political backdrop will remain challenging and the growth outlook is deteriorating, but ultimately the Tesoro need the market to turn up and take down bonds."
In November 2011, during the euro-area crisis, the Italian Banking Association used promotional campaigns such as "BTP-Day" to back a plea for local investors to purchase bonds and help restore market confidence, with lenders waiving fees for clients who bought the securities. The initiative also got backing from the Italian Soccer Players Association, although analysts at broker Fidentiis dismissed it as "a potential new Ponzi scheme."
The Italian Treasury had orders for only 707 million euros ($806 million) of four-year inflation-linked notes as of 3:40 p.m. in London Tuesday, the second day of the offering, according to exchange data. That compares with the 3.7 billion euros of eight-year debt that were snapped up in the first two days of a similar issue in May, before political turmoil beset the country.
Sanctions Risk
The poor demand could come as an embarrassment for Italy's leaders Luigi Di Maio and Matteo Salvini who have said that citizens and domestic banks would help fund a widening budget deficit projected by the government. It also raises questions over what level yields will have to rise to in order to fund proposals that are set to raise the shortfall to at least 2.4 percent of economic output next year.
Should the European Commission open its excessive deficit procedure for Italy, it could lead to a fine equivalent to 0.2 percent of Italy's 1.7 trillion-euro annual economic output, with the possibility of it rising to 0.5 percent if Rome still refuses to comply. Still the bloc may be wary of punishing the nation too harshly ahead of parliamentary elections next year.
Italian 10-year bond yields touched 3.72 percent Tuesday, the highest level since Oct. 19. The spread over their German peers rose as high as 336 basis points.