Euroskeptic Campaign Backfires to Boost Czech Support for EU
(Bloomberg) -- Political campaigns aimed at triggering a Brexit-like departure from the European Union backfired in the Czech Republic last year to produce a surge of support for membership in what was once the bloc's most euroskeptic state.
The number of Czechs who see EU membership as "a good thing" rose to 51 percent from 35 percent a year earlier, Globsec, a Bratislava-based think tank, said in a report released Thursday, citing opinion polls. In contrast, backing fell in Poland and Hungary, whose governments are clashing with the European Commission over whether they're undermining the bloc's democratic standards.
The rise in support follows parliamentary and presidential elections in the Czech Republic, during which an anti-establishment party raised the prospect of holding a Brexit-style referendum to leave the EU. While euroskepticism is rising among some of the bloc's ex-communist members, the debate in the Czech Republic may have energized people who hadn't felt strongly about membership, which has helped contribute to a jump in living standards.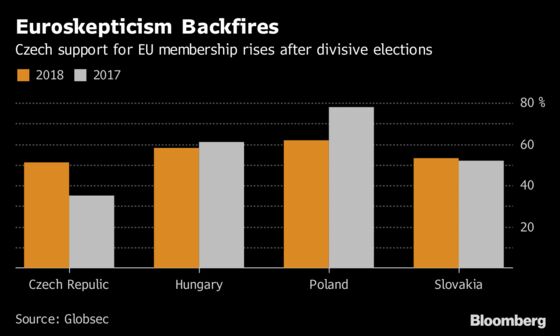 "The 'naming and shaming' of political representatives who were not afraid to go as far as proposing a referendum on EU membership might have mobilized previously silent or indifferent groups to define their position more clearly," the report said.
At the center of the debate to leave the EU is the SPD party of Deputy parliament Speaker Tomio Okamura, a Japanese-born former travel agency owner who has urged Czechs to harass Muslims and has been criticized for questioning whether Roma were persecuted in Nazi concentration camps in World War II. His ally, pro-Russian President Milos Zeman, has said he supports holding a referendum on EU entry, although he'd vote to stay in.
While the Poles had the most favorable view of the EU in the so-called Visegrad 4, a group of countries including Poland, the Czech Republic, Hungary and Slovakia, support slumped to 62 percent from 78 percent last year, according to the report. In Hungary, it slipped to 58 percent from 61 percent, and in Slovakia it rose one percentage point to 53 percent.
After benefiting from EU development aid for more than a decade, some of the bloc's eastern members are increasingly clashing with their western peers over immigration and democratic backsliding as governments crack down on independent courts, media and civil society. The EU has launched its first-ever probe against Poland into whether a member state is adhering to the rule of law, while the European Parliament will vote later this year on whether to sanction Hungary for similar reasons.